Respite Care Services: Keeping "Apace" With Wisconsin's Care Crisis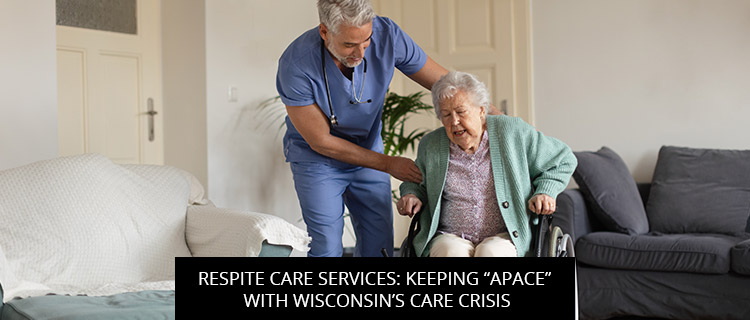 As numerous studies and client testimonials now show, respite care is a balm for Brookfield's "overloaded and unpaid" family caretakers, many of whom are now feeling the physical, emotional, and financial impacts of "caregiver burden."
But while it is undeniably effective, instantly lifting the burden for caregiverswhile treating recipients to an elevated white glove experience, respite care is not the only option available to Wisconsin families in need of help.
Today's post explores one such alternative, the Program for All-Inclusive Care for the Elderly (PACE), then highlights how our respite care services work seamlessly with these community support programs to maximize family comfort and eliminate care gaps.
Read on to learn more, or call (262)-439-8616 to speak directly with a respite care coordinator in Brookfield, WI.
Respite Care Resources In Brookfield, CA: Am I Eligible For PACE?
The Program for All-Inclusive Care for the Elderly (PACE) dates back to the 1970s, when a collective of San Francisco families sought ways to help their loved ones age comfortably at home, instead of having to move into nursing homes.
Today, PACE is a national program that provides Brookfield families with a wide range of care services, both in and out of the home, including:
Home health care
Home modifications
Adult day care centers
Counseling and therapeutic resources
Alcohol and drug treatment services
Mental health services
Emergency and urgent care services
Medication monitoring
Respite care
Self-directed personal care
Specialized/community transportation
Speech and language pathology services, and much more
Despite being around for more than 50 years, and the fact that approximately 90% of seniors would prefer to age in place, many families are not aware of the PACE program or how to take part.
To be eligible, seniors must:
Be able to live safely in the community with some help
Be at least 55 years old
Be eligible for nursing home care
Live in Kenosha, Milwaukee, Racine, or Waukesha County
To enroll, you can visit the Wisconsin Department of Health Services' website, or get in touch with our respite care team to review different program options and get help with sign-up.
Not Eligible For PACE? Not A Problem: Book Respite Care Services
The PACE program is an excellent option for those who qualify, but our respite care services bring you all the same benefits, without any of the eligibility or scheduling restrictions.
Just like the PACE program, we offer:
A team of health professionals committed to your loved one's safety, comfort, and quality of life
Easy access to local daycare centers, assisted living facilities, and senior center resources
Full support with the activities of daily living
A complete continuum of care services, spanning simple companionship to intensive dementia care and live-in support
Personalized care plans
Furthermore, we give you complete scheduling flexibility, with respite care services available 24/7 in any care setting, be it at home, in-hospital, or out on the go; and when the time comes to move or upgrade your care, we support you every step of the way.
Both programs are proven effective, and you don't need to choose one or the other—in fact, many Brookfield families bring their loved ones the best of both worlds, taking advantage of PACE program offerings and using respite care services as needed to fill in care gaps.
To learn more and get a free quote on a respite care plan, you can: