Stay Healthy and Stop Holiday Loneliness with Elderly Care in Brookfield, WI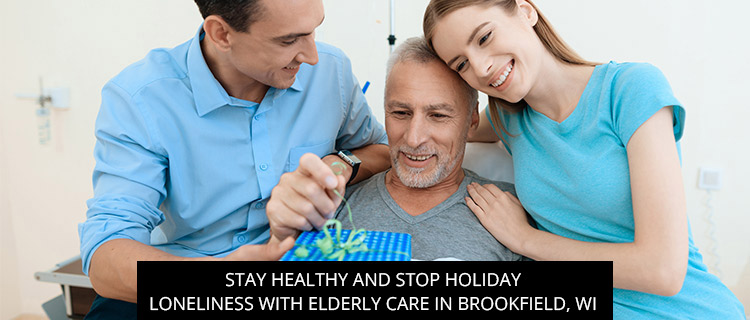 If you suspect your loved ones may be starved of social connections, either over the holidays or anytime in the new year, our elderly care teams are here to help.
Read on to learn a few ways we're helping to reduce the risks of social isolation and holiday loneliness in Brookfield, WI, or call (262)-439-8616 to speak directly with an elderly care coordinator in your community.
Social isolation and holiday loneliness raise elderly care concerns in Brookfield, WI
If you worried about your loved one's social wellbeing over the 2022 holiday season, you weren't alone.
According to the AARP's Holiday Season report, more than 4 out of 10 (41%) of survey respondents indicated that they had concerns "about a family member or friend feeling lonesome" over the holidays.
Unfortunately, research suggests these worries were justified, as more than 1 in 3 seniors reported feeling lonely during the holidays. And with multiple studies now referring to prolonged loneliness as "the new smoking,' with negative impacts equal to smoking 15 cigarettes a day, one thing is certain: Brookfield seniors need social support, even if you can't be home for the holidays.
Of course, loneliness is not limited to the holidays. And with COVID-19 concerns still fresh on the minds of many Wisconsinites, 2022 was particularly fraught. Older women were most impacted, with those aged 65 to 74 experiencing a 67% increase in loneliness during the pandemic, according to one study by Simon Fraser University's Gerontology Research Center. Older men experienced a 45% increase in loneliness over the same period.
If your loved ones are experiencing increased or prolonged loneliness, either over the holidays or anytime during the year, you need to take action, and our elderly care team is here to help.
Ending social isolation is easy with elderly care services in Brookfield, WI
Good news: if your loved ones are already receiving elderly care from our team, you have nothing to worry about.
We invest a lot of time in our matchmaking process to ensure great chemistry between caregivers and recipients, so every home care visit comes with great company and conversation to stave off the effects of isolation. And if your loved ones need a little extra social interaction around the holidays, our companionship care services are available whenever and wherever they're needed.
Beyond providing direct social support, our elderly care teams also facilitate family connections by assisting with travel, hosting, and connecting remotely with video chats, email, and phone calls. We've also helped local seniors make new friends and connections by helping them take part in events hosted by their senior center, adult day care, or residential communities.
Whatever avenue you choose, we guarantee full support with activities of daily living (ADLs) and full compliance with COVID-19 safety protocols in high-risk areas, such as indoor events and crowded outdoor gatherings.
Best of all, our social supports are included as part of every elderly care plan. And if you haven't taken advantage of our elderly care service just yet, getting started is easy.
End isolation: Get a free quote on elderly care in Brookfield, WI
To learn more about how we're supporting seniors' physical, mental, and social wellbeing, and get a free quote on a personalized elderly care plan, you can: