5 Best Ways Caregivers Can Build Trust And Rapport With Seniors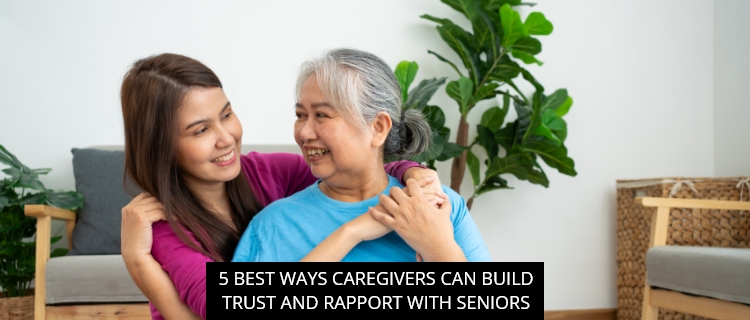 Meeting a senior client for the first time can be the most challenging part of being a caregiver. Older adults, particularly those who are independent, can be resentful over having to receive care from someone outside of their family. They can also resent having a stranger in their home.
As a professional caregiver, showing empathy, compassion, and kindness will break down those walls and help you build trust and rapport with senior clients. This will make your job much easier and more rewarding.
Here are 5 top tips Always Best Care recommends to caregivers when they meet senior clients for the first time.
1. Take The Time And Effort To Get To Know Them
When you meet a senior client for the first time, anticipate that he or she may or may not be receptive to you. Regardless of their attitude, you greet them with a smile on your face when you introduce yourself.
Instead of explaining how you will be able to help them, make them the center of the conversation. Sit down with them, ask them questions about their day, their family, their likes and dislikes, past career, and hobbies they enjoy. Practice active listening by giving them eye contact and then by asking follow-up questions. This shows older people that you are taking a genuine interest in them.
2. Allow Them To Retain Their Independence
For senior clients who are fully mobile and independent, let them know that you support and promote an independent lifestyle and that you will help them nurture it. Even older adults with limited mobility desire to have some autonomy. It's important that they are able to retain it, so long as their choices don't jeopardize their or your safety. This shows older adults that you trust them and that you are not there to take away their independence
3. Communication
Communication plays the biggest role in caregiving. A senior's needs can change, which is why, as a caregiver, it's important you stay in-tune with their needs at all times. When you know their needs, you will be able to provide the best care to everyone's satisfaction. Being respectful of a senior's boundaries is another form of effective communication. Know when to step in and help and when to back off and let an older person have their alone time.
4. Find Common Ground
Even though there is an age difference between you and a senior client, it doesn't mean that you don't have any shared life experiences or activities that you both mutually enjoy doing. Your attempt to find common ground with a senior client shows that you are empathic. Seniors who feel that they can relate to their caregiver makes the experience for them much more enjoyable.
5. Display A Positive Attitude
Senior clients may struggle with chronic pain and need extensive care, while others need minimal care, but still struggle with other issues, like loneliness and depression. A big part of your job as a caregiver is the ability to leave your problems at the door. A positive attitude and service with a smile on your face will lighten up the mood and help senior clients better cope with their daily problems. A positive attitude will show seniors that you are passionate about your job because you genuinely care for them.
We at Always Best Care carefully and vigorously screen all our employees because we want to make sure all of our caregivers are passionate about their job and about the people in their care. To learn more about our caregiving services in Madison and the surrounding areas, give us a call at (608) 315-2378 and schedule a free consultation with our team.