ABC Always In Touch National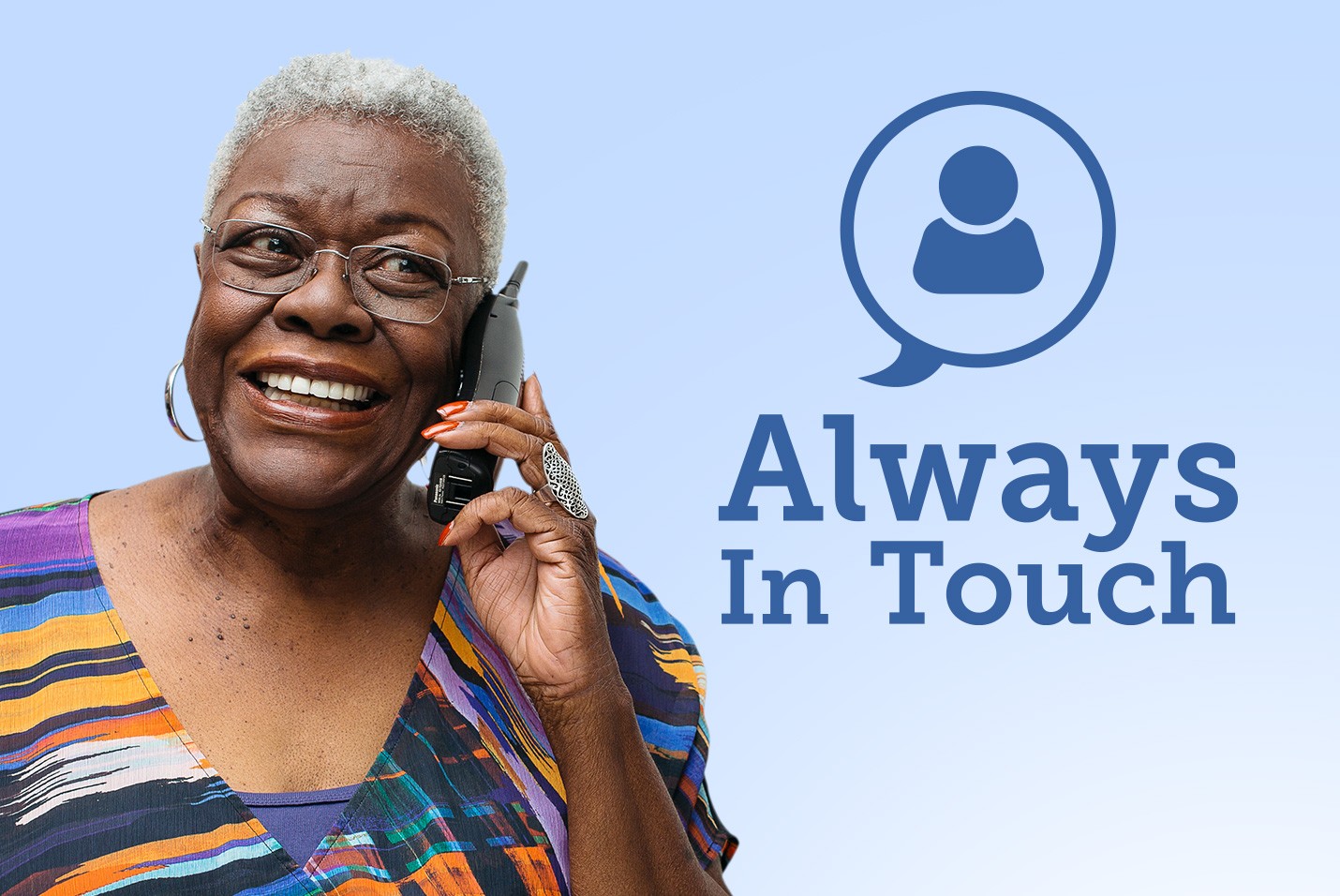 Always Best Care Gives Back With Free Safety Check Call Service For Seniors
Helps Seniors Fight Loneliness, Gives Families Peace of Mind
Roseville, CA (November 19, 2015) — For the nearly 12 million Americans 65 and older living alone the battle against loneliness is all too common. And the holiday season can be an especially difficult time of year for many elderly.
According to studies, nearly 60% of seniors who live alone or in care facilities receive no regular visitors, contributing to what is referred to as "senior orphans."
For Companionship, Peace of Mind.
Through its network of more than 200 franchises, Always Best Care provides families nationwide with the only free national reassurance program of its kind in the United States —Always in Touch. This unique service provides companionship to a family's loved one through a "safety check" phone call every weekday.
Always Best Care is one of the nation's leading providers of non-medical in-home care, assisted living placement services and skilled home health care. The company delivers its services through an international network of more than 200 independently owned and operated franchise territories throughout the United States.
"This unique program allows us to give back to our communities in a very meaningful way," said Michael Newman, Founder and Chief Executive Officer of Always Best Care.
Always in Touch serves mostly seniors or disabled adults who are homebound, isolated, living alone or in need of daily contact. It can be temporary for someone recuperating from an illness or surgery, or it may be a more permanent situation.
Representatives of Always in Touch allow the phone to ring up to 15 times. If there's no answer, they will call back 15 minutes later. If there's still no answer, they will try to reach designated emergency contacts.
Getting Started is Easy.
To get started, caring family members and friends can refer individuals to Always Best Care. All it takes is a phone call or email to your local Always Best Care representative. Visit our website to find the closest location www.AlwaysBestCare.com. For more information, call toll-free (855) 710-CALL (2255), or visit www.Always-In-Touch.com. Or call (855) 470-CARE for a free care consultation.
Always in Touch is not a referral service or medical alert system, nor is it a substitute for professional medical advice or the care that patients receive from their physicians and medical advisers. In the event of an emergency, you must call your doctor or 911 immediately
About Always Best Care
Founded in 1996, Always Best Care Senior Services is based on the belief that having the right people for the right level of care means peace of mind for the client and family. Always Best Care assists seniors with a wide range of illnesses and personal needs, and currently provides thousands of hours of care every year. Franchise opportunities are available to individuals interested in leveraging the company's clear strategy and proven track record for delivering affordable, dependable service to seniors in their local areas.
y working with case managers, social workers, discharge planners, doctors, and families, Always Best Care franchise owners provide affordable, comprehensive solutions that can be specifically matched to meet a client's particular physical or social needs. The hallmark services of the Always Best Care business portfolio include non-medical in-home care and assisted living finder and referral services, with skilled home health care now being phased in throughout the country. For more information, visit www.AlwaysBestCare.com. For franchise opportunities, visit www.FranchiseWithAlwaysBestCare.com.
Always Best Care also offers Free ABC Rx cards, which provide discounts of up to 65 percent off the cost of prescription drugs at more than 59,000 pharmacies across the USA, and have saved consumers more than $500,000 since its inception. This service is offered at no cost to the users, there are no deductibles, no waiting periods, no pre-existing exclusions, and no eligibility requirements — everyone can use the card (even family members and pets!). TheFree ABC Rx card covers many medications that Medicare Part D and regular insurance often do not. To download a free card, visit www.FreeABCRx.com.
Another exclusive program offered by Always Best Care is Always in Touch, a telephone reassurance program that provides a daily phone call to seniors and disabled adults who are living alone and have limited contact with the outside world. Always in Touch is the onlyabsolutely free national telephone reassurance program of its kind anywhere in the USA and Canada. For more information on Always in Touch, or to request an application, visitwww.Always-in-Touch.com.
CONTACT:
Larry Miramontes
[email protected]
916-596-1825
To print the news article CLICK HERE