Always Best Care Expands in Houston Metro, Now Serving Humble and Kingwood Communities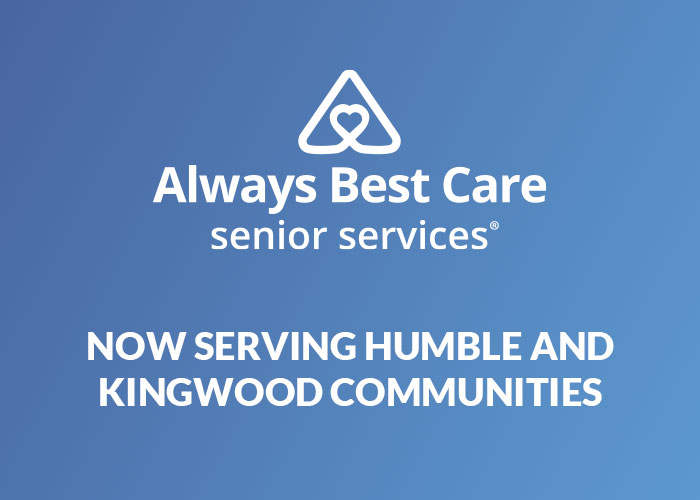 Houston Native Opens 12th Texas Location for Award-Winning Senior Care Services Brand
Always Best Care Senior Services, one of the leading senior care franchise systems in the United States, announced today the opening of its fourth location in the Houston Metro. Always Best Care of Kingwood is owned and operated by local resident and Houston native Marisa D. Thompson. The new business will provide non-medical in-home care and assisted living referral services to Humble, Kingwood and the surrounding areas. 
"Always Best Care has a long history in Texas and throughout the Houston area providing the highest level of personal care to seniors and their families. Marisa is a savvy business professional who saw a demand for our compassionate, dedicated services in her neighborhood, and we are thrilled to welcome her and her caregivers to our team," said Jake Brown, President and CEO of Always Best Care. "We know Marisa's passion for service and strong grasp of the needs of the local community will serve her clients well."
For the past 25 years, Thompson has been working as an information technology consultant in the oil and gas industry. After authoring a self-published book last year, she was inspired to continue working toward her next goal of starting her own business. Always Best Care's mission and values are a perfect fit with Thompson's desire to give back to her community and provide support to families through the home healthcare industry.
"After working in the corporate world for over two decades, I wanted to find a business that would allow me to invest in myself and in helping others. Backed by this brand's excellent training program and my growing team of professional caregivers, I look forward to expanding the senior service resources Always Best Care delivers throughout the Greater Houston area."
Always Best Care is one of the nation's leading providers of non-medical in-home care and assisted living referral services, with skilled home health care in limited markets. The company delivers its services through an international network of more than 225 independently owned and operated franchise territories throughout the United States and Canada. By working with case managers, social workers, discharge planners, doctors, and families, Always Best Care franchise owners provide affordable, comprehensive solutions that can be specifically matched to meet a client's particular physical or social needs.
Always Best Care of Kingwood is located at 1525 Lakeville Drive in Kingwood.
For additional information on services available, or for a free evaluation, call 713-898-5475 or visit http://www.alwaysbestcarekingwood.com/ for more information.
About Always Best Care
Founded in 1996, Always Best Care Senior Services is based on the belief that having the right people for
the right level of care means peace of mind for the client and family. Always Best Care has been assisting seniors with a wide range of conditions and personal needs for over 25 years and currently provides thousands of hours of care every year. Franchise opportunities are available to individuals interested in leveraging the company's clear strategy and proven track record for delivering affordable, dependable service to seniors in their local areas.
Always Best Care also offers exclusive programs such as Always in Touch, Balance Tracking System and remote patient monitoring. For more information regarding Always Best Care's solutions, visit www.alwaysbestcare.com.