Always Best Care Honors Award-winning Franchise Owners and Caregivers at Annual Conference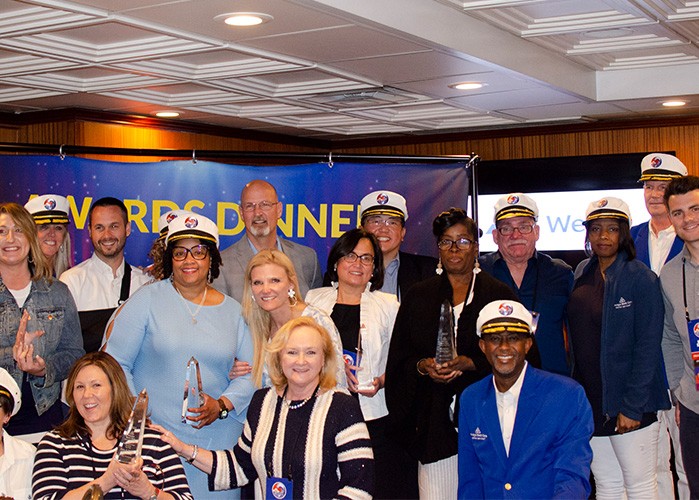 Always Best Care recently held its annual conference March 10-13 at the Hard Rock Hotel in sunny San Diego. A highlight of the event was the California Sprit Dinner Cruise and awards ceremony, where the senior services brand honored all of the franchisees and caregivers who have demonstrated an exceptional commitment to their work and the people they serve over the past year.

The 2021 Always Best Care award winners include:

National Caregiver of the Year – Tanya Johnson, Always Best Care of Baton Rouge, LA
One caregiver of the year and two finalists demonstrated an extraordinary commitment to their delivery of care to the client and their family, while shining as Always Best Care employees. Second runner up was Wendy McDonald from Always Best Care of Wallingford, CT. First runner up was Trina Brooks from Always Best Care of Baton Rouge, LA.

Franchisee of the Year – Carrie Bianco from Torrance, CA
To win franchisee of the year, the franchise owner must have been operating for a minimum of 3 years with revenues exceeding a minimum of $2 Million. We also consider overall incremental dollar growth year over year, operational excellence of the franchise, participation in FSO Initiatives and more. In her first full calendar year, Carrie Bianco quickly grew and has been growing exponentially ever since. She knows how to scale a team and motivate employees…all while always giving back her time and talent to others in the system. Carrie is the first to volunteer for any new initiative or opportunity to improve the business. Her list includes participation in the Franchise Advisory Council and in the Performance Group program since its inception in 2017. Her business grew over 32% last year, which resulted in the highest dollar amount of growth for any franchisee.

Rising Star Rookie of the Year – Steve Kelly from Oakville, Ontario
To earn Rookie of the Year status, new franchise owners must be the fastest out of the gate after they complete ABCUniversity. These owners started gaining traction, virtually from day one. This year's winner, Steve Kelly, continues to challenge the status quo. He is always looking for ways to bring visibility to his brand and to grow revenue for his agency. He continues to build on his caregiver program and he even looks for new opportunities to add sales and profits to his franchise. He has also quickly scaled his agency with an office staff to help him get to the next level, all while taking a peek at the club report each month to compare himself to the other newbies. That competitive streak paid off, with Steve billing more than his peers in his first 12 months.

Team Member of the Year – Jenny Singleton, HR Manager at Always Best Care of Fleming Island, FL
To win this award, Jenny demonstrated excellence in overall work performance and promoting positive morale in her office. She also worked to improve herself and develop others while providing a tangible contribution to the bottom line for her local franchise. Under Jenny's leadership, HR files were cleaned and organized. She took over the weekly COVID testing of caregivers, as well as the scheduling of quarantining and re-testing of COVID+ or exposed caregivers and clients. Jenny revamped caregiver ads and helped hire three new RNs to meet growing needs. She streamlined the hiring process and orientation to onboard new hires faster. And, with the increased number of caregivers, Always Best Care of Fleming Island was able to land in the #8 spot for the national Incentive Trip Challenge with a whopping 95% increase in revenue from 2020 to 2021.

Senior Community Referrals Award – Dan Barbee, Always Best Care of Roseville, CA
One of the services that gives franchisees an opportunity to work with more clients and earn additional revenue is the Senior Community Referrals service. This is an area that focuses heavily on having an understanding of the local senior communities in the market in order to refer clients needing this type of care. Dan has won this award every year since his arrival in 2016.

Home Health Agency of the Year – Neil Golli, Always Best Care of Middleburg Heights, OH
Always Best Care of Middleburg Heights is the skilled home health care franchise with the highest revenue in this category. In the last three years, Neil and his team have served well over 500 clients. This is uncommon for a certified skilled care agency to service as many clients as Neil and his team does!

Top Revenue Producer – Bryant Greene from Always Best Care of Philadelphia, PA
Bryant is a franchise owner who continues to operate not just as a leader within the Always Best Care system but in the industry at large. From the very first day he opened his agency, he has always had a big heart and a fondness to give back to his local community, as well as his staff and caregivers – all while operating multi-million-dollar franchises in two states. Bryant regularly takes time to speak with franchisees, seasoned and new, and he has always welcomed franchisees to visit him any time. This award recognizes his efforts as the top revenue producer based on last year and all the years prior.

Community Marketing Award – Samantha Loy from Always Best Care of Burlington and Chapel Hill, NC
Samantha works with Community Resources such as promoting COVID resources in the community, COVID testing, and vaccine clinics. She takes time to acknowledge community leaders such as the police, fire fighters and healthcare workers; participates in holiday festivals, charitable events and local radio shows; promotes community resources for women by working with the local Women's Resource Center and regularly participates in blood drives and provides opportunities for her staff to donate blood.

Franchise Owners with the Largest Percentage Sales Increase

Tier Five Award Winner – Ken and Erica Crawford from St. Paul, MN
Grew their revenue by 555% over the previous year.

Tier Four Award Winner – Phil Morgan and Sarah Diener from Lexington, KY
Grew their revenues by 57% over the previous year.

Tier Three Award Winner – Angela Encarnacion from San Bruno, CA
Grew her revenue by a 95% increase over the previous year.

Tier Two Award Winner – Rick, Brenda, and Pat Downey of Bristol, CT
Increased their revenue over the previous year by 90%.

Tier One Award Winner – Dan Barbee of Roseville, CA
Increased revenue by 48% over the prior year.