Assisted Living Franchise: Pros and Cons of Nursing Home Franchises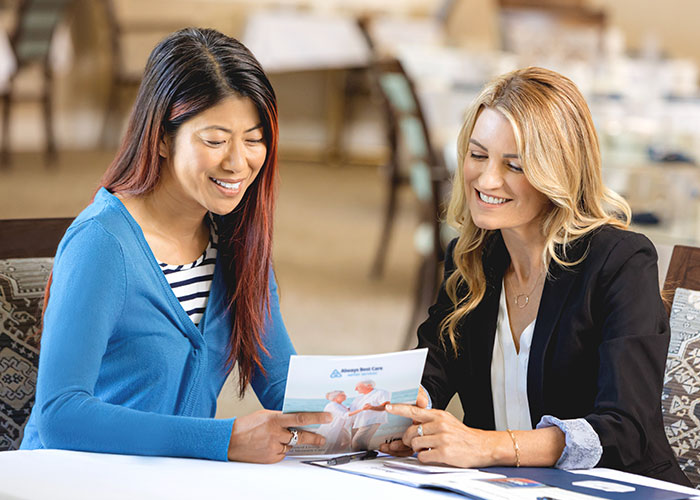 An assisted living franchise can be a smart investment, but there are advantages and disadvantages to consider before making a decision. Learn more about senior living franchise opportunities and why a brand like Always Best Care may be a better business venture.
What is an Assisted Living Facility?
An assisted living facility is a residential community that provides housing, meals, and help with daily activities for elderly or disabled individuals who require some level of support but don't need round-the-clock medical care. Assisted living facilities typically offer a range of services, including medication management, housekeeping, laundry, transportation, and personal care.
The goal of an assisted living facility is to provide a safe and comfortable living environment for residents while promoting their independence, dignity, and social engagement. Each facility may have different levels of care depending on their patients' needs.
Pros and Cons of Assisted Living Franchise Opportunities
Like all business ventures, there are benefits and drawbacks. When determining which franchise opportunity is for you, you'll need to decide whether the perks outweigh any potential downsides. Below we break down the positives and negatives of investing in a senior living facility.
Pros of owning a franchised care facility:
Established brand and business model: Purchasing a franchise gives you a leg up over other independently owned businesses. Franchises have the resources to build brand awareness and fine-tune their business practices. Franchisees just need to be willing to follow the systems in place.
Training and support: Reputable franchisors provide continuous education and guidance to their franchisees, including initial training, ongoing support, and marketing initiatives. Strong franchise opportunities usually include access to technology and other resources for franchisees to use throughout the life of their agreement.
Growth potential: Most franchisors want to see their franchisees expand their business beyond just one location. Once you've got the hang of operating your first franchise, you can likely open more. Many franchise brands offer monetary incentives for franchisees looking to be multi-unit operators.
Cons of owning a franchised care facility:
High initial investment: Assisted living franchise costs can be quite hefty. Consider the amount of space, equipment, and staff you'll need to get your franchise business up and running.
Ongoing maintenance: Similar to any business storefront, you'll need to factor in any routine maintenance costs. If a part of your facility needs updating or repairs, it can get pretty costly.
Staffing requirements: With an assisted living facility, you'll need a big team to keep things running smoothly. Your staff will need to consist of caregivers, nurses, housekeepers, maintenance workers, and cooks to make sure all of your clients have their needs met.
If you're set on owning a franchise in the senior care industry, know there are other options aside from assisted living. Always Best Care is a leading home care franchise offering an affordable opportunity with multiple revenue streams.
Franchise with Always Best Care
Michael Newman, founder of Always Best Care, was frustrated at the lack of senior care resources in his community. That's why he decided to build a company that not only provided high quality in-home care services, but also offered professional advice. In 1996, Always Best Care was born. We began franchising 10 years later and now have more than 200 locations across the U.S.
Our franchise locations offer in-home care, assisted living referral, and skilled home health care, ensuring three separate revenue streams. When determining senior care franchise profitability, it's imperative to evaluate the startup costs and your potential to capitalize on the investment. With Always Best Care having affordable startup costs ranging from $74,725 to $125,400 * and a diverse range of services, franchisees have the tools they need to build a strong business.
With a brand like Always Best Care, you get the advantages of owning a franchised business that works with care facilities without the headaches. In-home care franchises don't require the space, equipment, and staff that assisted living facilities do. However, you can still partner with those facilities to build up your business. Our assisted living referral services are free to clients. You'll get paid directly from the facility after your client is placed. This gives families the time they need to find the perfect match for their loved ones.
Join a brand committed to making a difference in the lives of others. Request information today to learn more about our franchise opportunity.
*Please refer to Item 7 of our latest FDD