Building Connections to Overcome Aging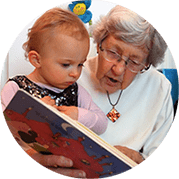 Over the past few years, the world has changed a lot, especially when it comes to the major surge in technology. Generations of the past weren't on social media or the Internet, and they didn't play video games or have cell phones. This can make it harder for grandparents and grandchildren to connect because they grew up in such different times. Seniors don't always understand or relate to modern-day trends and technology.
It is important for families to find ways to overcome these obstacles and forge stronger relationships. Just because things are different now doesn't mean generations have nothing in common. There are plenty of ways to bring people together no matter their ages:
Find activities that surpass generational gaps. Do things together such as gardening – plant and tend to vegetables or flowers. Watch them grow and enjoy the fresh bounty. Gather together a variety of supplies and do arts and crafts. Make birdhouses, suncatchers, paintings, scrapbooks, or any other type of fun project. The point is that you're doing it together, and everyone can cut, color, paint, and glue; no technology needed.
Play games. Dig out some "old school" board games or card games and have seniors teach their grandkids how to play. Then, switch roles, and the grandkids can teach the grandparents how to play newer games. And in fact, playing video games can actually be beneficial in aging and keep the mind sharp.
Cook favorite foods. Are there certain recipes that aging parents remember from when they were young? Teach grandkids how to make them! Keep the tradition going and pass it on from one generation to the next. A lot of times, recipes stemmed from what foods were or were not available at the time, so that can also spur discussions about history and the economy.
Talk about current and past events. It can be interesting to see how much things have changed and how much they have stayed the same. Talk about how things were different back when the grandparents were young and how they have evolved. Predict what things might be like in the future.
Explore new things together. Share favorite books or movies and discover new ones together. Find an activity that both seniors and youth are interested in, whether it's a new hobby, learning to play piano, taking pictures, or riding horses. Learn how to do it together to build stronger connections and have fun at the same time.
Seniors hold so much history and have so much to give, yet there is also a lot that they can learn along the way. Grandparents and grandchildren can work together to create memories, share their history, and build a brighter future. Seniors can find the help they need to continue safely aging in place with support from an in-home caregiver. A caregiver can also work with them to coordinate get togethers with loved ones, prepare meals, keep their home organized, escort them on outings, and much more. Contact Always Best Care at (855) 470-2273 to find out more about available senior services and schedule a free consultation!