A Home Safety Checklist For Seniors: How To Create A Safe Environment For Your Loved Ones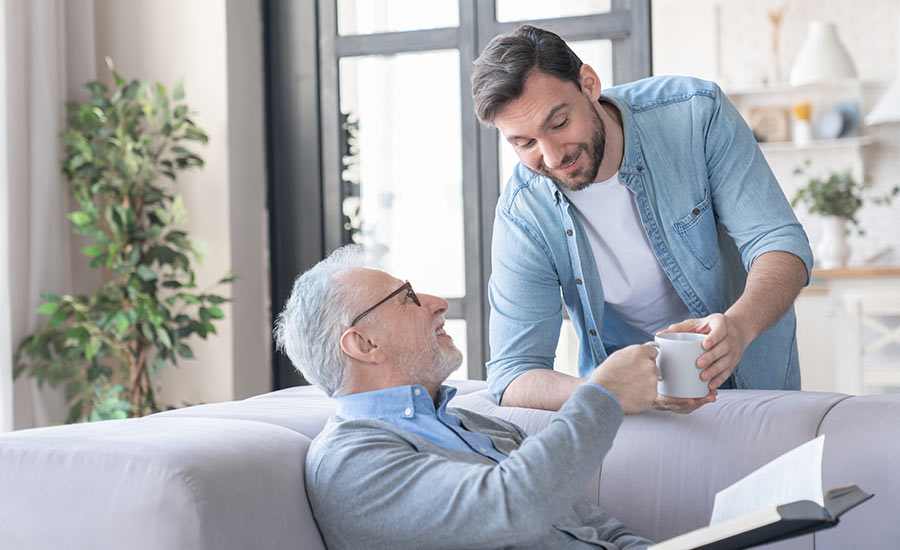 From trips, slips and falls to taking the wrong medication, even the seemingly innocuous everyday activities can put your elderly loved ones in harm's way.
We have put together a detailed home safety checklist for seniors that will help you create a more secure environment for your loved ones and gain peace of mind while you are apart.
If you are looking for in-home care services, we will also show you how Always Best Care's team of trusted caregivers can further improve your loved ones' safety and quality of care.
How Elderly Home Safety Checklists Help You Create A Safer Environment
A home safety checklist for seniors can help you plan and implement important changes in your loved ones' home to help them retain their independence and comfort.
An elderly home safety checklist allows you to:
Identify potential home hazards
Prevent slips, trips and falls
Prevent fire along with subsequent burn injuries and inhalation of toxic gases
Reduce the danger of taking the wrong medication and suffering accidental poisoning
Gain peace of mind knowing your loved ones are safe in the comfort of their own home
Room-by-Room Home Safety Checklist For Seniors
The most frequent location for home accidents among seniors is the toilet (29%), followed by the living room (18%), the kitchen (14%) and the bedroom (11%).
Understanding that potential hazards may vary from one space to another, our home safety checklist for seniors focuses on the arrangements or modifications you can make in each room they use.
Please note that your loved ones' physical, psychological and emotional needs and abilities can vary, which is why we recommend tailoring this list to them.
Review each point carefully to assess its relevance to your loved one to customize your home safety checklist.
Toilet & Bathroom
Install grab bars inside and next to the tub
Install grab bars next to the toilet
Install a special raised toilet seat or a tub chair if your elderly family member or friend has difficulties getting on and off the toilet or in and out of the tub
Use anti-slip mats on the bathroom floor, in the tub and the shower
Adjust the water heater's thermostat to no more than 120° F
Store medication in clearly marked containers along with large-print labels listing the patient's name, content description, expiration date and doctor's prescription
Make sure electrical receptacles are equipped with ground-fault circuit interrupters
Conduct a monthly check of the receptacles to ensure they work properly
Living Room
Create ample and clear pathways by decluttering and careful furniture arrangements
Move portable heating equipment at a minimum of three feet distance from the walls or other flammable items such as furniture, curtains and rugs
Make sure portable heaters are stable and at a safe distance from walkways
Place wood-burning heating equipment on non-combustible floor protectors or fireproof flooring
Make sure the chimney is regularly inspected and cleaned of leaves and debris
Kitchen
Remove flammable items and décor from the kitchen counters and walls including curtains, towels and potholders
Install bright and even lighting above the countertop, sink and stove areas
Place all frequently used items on waist-high shelves
Check kitchen appliances for damaged or frayed electrical cords
Make sure all electrical appliances and extension cords are at a safe distance from the sink and additional sources of water
Check to ensure that the kitchen ventilation system works properly
Use a sturdy step stool with handles if your loved one must rely on one to reach kitchen items
Install and secure a fire extinguisher
Bedroom
Install a sturdy bed rail for support and stability
Place a flashlight near the bed in case of electricity outage
Place a non-cord phone near the bed
Use a mattress that follows the federal flammability standards
Make sure electricity-heated blankets are not covered by additional objects and the power cords are not crushed or pinched
Install smoke alarms inside and outside the bedroom and regularly test if they work properly
Install carbon monoxide detectors outside the sleeping area and test if they work properly
Check alarm batteries every three months
Throughout Your Loved One's Home
Look for and remove cluttered furniture, décor, cables and other items that can pose a tripping hazard on the floors, steps and stairways
Check if all flooring surfaces are flat, in good condition and covered with slip-resistant materials
Install light switches at both the top and bottom of the stairs
Install easily graspable, solidly mounted handrails on both sides of the stairs
Use bulbs of appropriate wattage to keep all areas well-lit
Consider indirect lighting or frosted bulbs to reduce glare
Make sure electrical switches and outlets are not hot to the touch
Move frequently used storage and laundry equipment to the main floor to decrease the risk of falls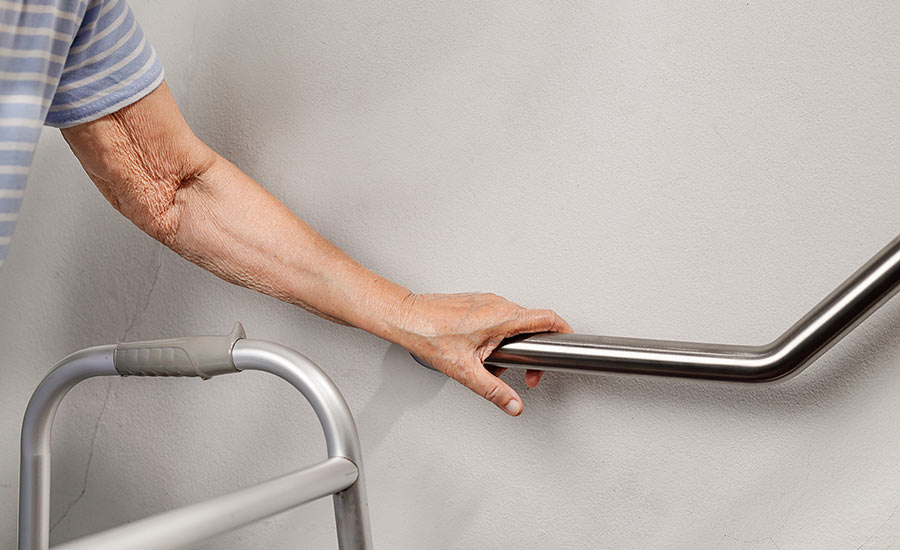 Additional Tips On Improving Home Safety For Seniors
Although these changes may seem extensive and daunting, they typically require one-time set-ups and periodic checks. Taking the steps can not only alleviate your worries, but also restore the day-to-day joy your loved ones feel in the comfort of their own home.
Here are some additional tips to improve your loved ones' quality of care and safety:
Place emergency contact lists next to each phone in the house. The list should include contacts for emergency services such as 911, a family member or friend, healthcare provider's office and poison control authorities
If your loved one has walking or balance difficulties, ask their healthcare provider for a special fall risk assessment and an exercise program to prevent falls
If your loved one has experienced slips, trips and falls in the past, purchase a personal emergency response alert necklace or bracelet. This device will allow them to call emergency services by pushing the button if they are unable to reach the phone
Buy non-slip footwear that fits well
Tape rugs to the floor to prevent them from sliding or wrinkling
Remind your loved ones that they should keep their doors and windows locked at all times
Remind your loved ones that they should not allow strangers into their home
Remind your loved ones not to share personal information, such as bank information, account passwords, social security number or credit card with anyone
Schedule a consultation with a trusted senior care provider to discuss the option of in-home care services which will allow your loved one to be monitored around the clock or at regular intervals giving them the warmth of human interaction and the feeling of safety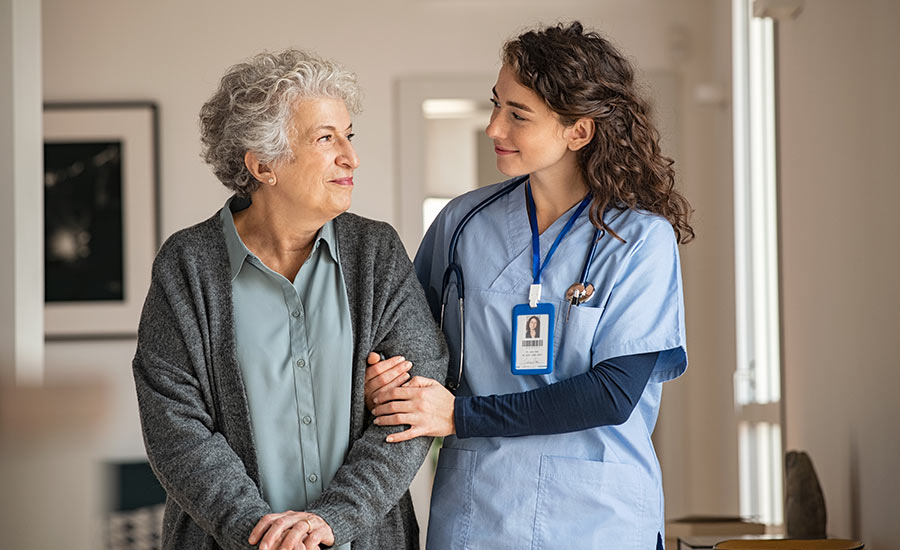 How Always Best Care Helps Improve Home Safety For Seniors
In-home care services can provide you and your loved ones with even greater peace of mind knowing they are in the safe hands of trained professionals and in the comfort of their own home.
For over 25 years, our experienced team at Always Best Care has provided reliable care for seniors across the United States and Canada through a network of 225+ franchised locations.
Our in-home care services include:
Personal care services such as 24-hour and live-in care, companionship, grooming and bathing
Specialized services such as cancer care and recovery, rehabilitation and post-surgical care
Skilled home health services such as patient/caregiver education, nutrition education and support, injections, and wound care management — to name a few
Our Lowe's Livable Home program includes a comprehensive safety assessment to identify potential risks of falls and providing recommendations to enhance your loved ones' home safety.
From maintaining a tidy home to assisting with daily routine tasks such as mobility, bathing and grooming, we focus on promoting their safety and comfort.
If and when you and your loved ones decide to consider assisted living options in a home-like setting, our team can provide a free referral based on your geographical preferences, your loved one's individual needs and available budget.
You can also request individual tours of the assisted living communities so that you can choose a place that feels like home.
Key Takeaways On Our Home Safety Checklist For Seniors
A home safety checklist for seniors can help you create a more convenient, comfortable, and secure environment for your loved ones.
While there are standard hazards to inspect and address throughout each home, from slippery bathroom floors to sliding bedroom rugs, we must acknowledge that every person and every home is unique.
We recommend using our checklist as a starting point to creating your own — one that would take into account your loved one's physical, psychological and emotional needs and abilities, as well as the environments they spend most of their time in.
For added safety and comfort, as well as quality of care, we also recommend considering in-home care services.
Our experienced and compassionate team at Always Best Care can provide extra help when needed, from home safety assessment and respite care to 24-hour in-house care and senior living referral.