Natural Methods for Managing Arthritis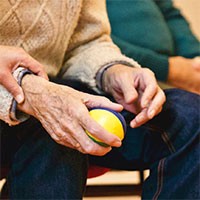 One of the common challenges seniors face as they get older is managing arthritis. Unbeknownst to many, "arthritis" is actually a term that encompasses more than 100 different types of joint pain and disease; it is not just one single disease. It often involves swelling, pain, and decreased mobility in the joints and can range from fairly mild to debilitating. While there are several medications that can be used to decrease symptoms of arthritis, some seniors opt for more natural methods first rather than taking another pill.
In recognition of May being Arthritis Awareness Month, we're taking a closer look at some more natural options seniors can try for managing arthritis:
Alternate Between Hot and Cold Therapy. Heat can help to loosen joints and improve blood flood. You could take warm shower or bath, use a heating pad, or stretch out under an electric blanket. This can be a great way to start or end your day. On the other hand, you may also find cold therapy effective for reducing swelling and pain. If you don't have an ice pack, frozen vegetables wrapped in a towel work well and are malleable too. Just make sure you never leave heat or cold applied for too long.
Participate in Physical Therapy. A physical therapist can help you learn exercises and stretches to relieve arthritis symptoms and improve your mobility. They can focus on areas that cause you the most discomfort but also recommend general activities you can do to stay active. For instance, swimming, biking, and yoga are all low-impact forms of exercise that are easier on your joints.
Try Acupuncture. The insertion of incredibly thin needles in various pressure points throughout the body can help reduce pain as well. Some people are hesitant to try acupuncture because they are not sure what to expect, but many find it beneficial. Acupuncture helps improve the flow of energy throughout the body.
Get a Massage. If your joints are feeling particularly stiff or sore, consider getting a massage. This gentle pressure and movement can help improve circulation and range of motion. It can help to reduce tension in your muscles too and leave you feeling more relaxed.
Manage Weight. Maintaining a healthy weight can help to reduce the strain on joints and help with managing arthritis symptoms. Talk with your doctor about a healthy diet and exercise plan that you can follow. They can help you figure out what is right for your body and health.
Meditate. Sometimes simply clearing your mind and creating more calmness and relaxation in your body can be effective in alleviating pain. You don't always realize how stress impacts you and how you're feeling. Decreasing stress can help reduce inflammation. Shift your focus away from any discomfort and get into a more positive mental space.
Apply Topical Medications. Rather than taking a medication that is distributed throughout your body, you could try a topical ointment, cream, gel, spray, or patch that targets a specific area instead. These medications often help with inflammation and can provide temporary pain relief.
If you struggle with arthritis, talk to your healthcare provider to see if any of these natural remedies may be an option. If pain and limited mobility impact your ability to live independently and you could benefit from some assistance with everyday tasks or getting around, consider hiring an in-home care provider. Always Best Care works with seniors to find the right level of care and services to meet their needs and support aging in place. Contact Always Best Care today at (855) 470-2273 to schedule a free consultation.