Pass It Down: Preserving Family History and Traditions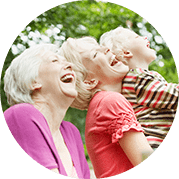 Family history is a precious gift. If stories, traditions, and information are not passed down from one generation to the next, eventually they will be lost and forgotten. It can be fun for families to get to know more about their past and what life was like years ago. It can also build a sense of pride and respect. Learning about the past can be a wonderful way to connect with seniors and strengthen bonds.
Here are a few ideas for how to preserve and pass along your family's history:
Write it down: There are plenty of fill-in-the-blank type books or ones with prompts that can be used to write down traditions, history, and memories. You could also simply use a plain notebook or binder and create your own. Write down things as they come up so you don't forget, then you can organize them later.
Label pictures: It's easy to look at pictures now and recognize who everyone is and what is happening, but years down the road, it may not be as crystal clear. Take the time to write dates, names, locations, and descriptions on any pictures. Start doing this now so your children and grandchildren will have them, and work with your parents or grandparents to label pictures from their past as best as you are able to preserve a little bit of history.
Make a family tree: You can use online programs or websites to build out your family tree, or you can do a traditional paper version. Write down whatever connections you can find. You can use pictures to trigger memories of people who may have passed away already.
Share stories: Talk to one another. Let seniors share the same stories over and over again so that you remember them and can share them with your own kids. Pass down traditions as well so that they live on with future generations. Let other family members know why you do these things, and how they came about.
Creating scrapbooks, writing down stories, and sharing traditions can be a great way for seniors to not only occupy their time, but it can also sharpen their mind. For individuals with Alzheimer's or dementia, remembering the past can often be easier than recalling the present, so they may be excited to share what they know because it comes more easily. It can also be an effective way to help grandparents and grandchildren connect with one another.
An in-home caregiver can help your loved one to write everything down, label pictures – and take new ones, create scrapbooks, and simply listen to their stories and ask questions. They can help seniors to preserve their history and look back through memorabilia to stimulate different memories. An in-home caregiver can be a wonderful companion while also supporting day-to-day needs and helping seniors to age in place more safely and comfortably. Call Always Best Care Senior Services today at (855) 470-2273 to learn more and schedule a free consultation!