South Bay Joins the Fight at the Walk to End Alzheimer's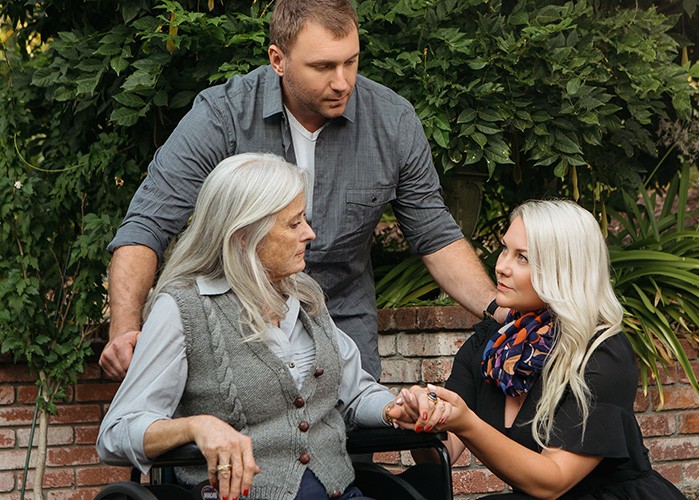 In the senior community, "Alzheimer's Disease" is one of the most frequently discussed topics. Although many of us reference the disease, there is still a large portion of the community that is unsure exactly what Alzheimer's is. Most know that some of the symptoms are increased levels of forgetfulness, the inability to learn new things and impulsive behavior, but it is extremely valuable to revisit the definition of the disease and what some of the causes may be.
What Exactly is Alzheimer's?
Alzheimer's disease is the most common cause of dementia, which is really just a term to describe a whole slew of symptoms centered around difficulties with memory, language, thinking and learning. Alzheimer's is a physical disease which is caused by protein build up in the brain, which forms structures called "tangles" or "plaques".  When these structures become present in the brain, the affected individual will lose precious connections between their nerve cells, which eventually results in the death of nerve cells and overall loss of brain tissue. When the causes and effects of Alzheimer's are analyzed, you can quickly understand how someone with the disease may begin to have difficulty with the day-to-day tasks that we all take for granted.
How Big is the Problem?
Alzheimer's is an epidemic in the United States. If you or your loved ones have never experienced any of the symptoms of Alzheimer's, you may not fully understand just how significant the overall issue is. Here are some quick facts to put the Alzheimer's epidemic into perspective:
Alzheimer's is the 6th leading cause of death in the U.S
1 in 3 seniors will die with Alzheimer's or another form of dementia
More than 5 million Americans are living with the disease right now
In the United States, someone develops the disease every 66 seconds
Alzheimer's is the only cause of death in the top 10 in America that cannot be prevented, cured or slowed
What Are We Doing About It?
Here at Always Best Care of West Los Angeles and South Bay, we have created a team that is participating in the Alzheimer's Association Walk to End Alzheimer's, which is the largest event in the world that raises funds and awareness for Alzheimer's research, care and support. This event takes place on Saturday, September the 30th, 2o17.
Our team is called the J&D Love Train, and we are striving to raise $2,000 to donate to the fight against Alzheimer's. Our team is walking for every single individual that is, or will struggle with Alzheimer's disease in their lifetime. We walk for the spouses, brothers and sisters, sons and daughters, grandchildren, and friends that selflessly care for them. We march for the amazing professionals that work long and hard hours, drastically improving the quality of life for those who suffer with memory loss. United, we push forward, demanding a cure.
Our walk is located at the Hermosa Beach Pier Plaza, with registration starting at 9AM.
What does J&D Stand for?
J is for Janice, an extraordinary human being, mother, and grandmother whose kindness, generosity, and unconditional love was the inspiration for our family business (Always Best Care South Bay).  She died from AD in 2001.  God bless her soul.
D is for Dolly, an exceptional Southern Belle (wife, mother, grandmother, great grandmother, and sister) with a smile that can melt your heart and a sharp wit that would put Judge Judy to shame. Her mac-n-cheese is to die for and the love she has for family cannot be measured – it's that big!
Doll is living with vascular dementia. Her husband of nearly 65 years, Billy, cares for her night and day and is just as amazing as Dolly is herself.
To join or donate to team J&D Love Train, click HERE.
Why Walk or Donate?
When you walk or donate, you are fueling the engine that drives the awareness and research for Alzheimer's. Every step and every cent brings us that much closer to finding a solution for the millions that suffer on a daily basis.
There is no fee to participate but our team at South Bay encourages all our team members to fundraise in some capacity, remembering that every single dollar helps. Many of the individuals that donate to our team love the fact that their dollars go to making a difference in their own, local community. Face-to-face support, online education tools and promising worldwide research initiatives are all supported by the dollars raised at events like this.
Let us know you're going on our Facebook Event.
Where Does the Money Really Go?
79% of the funds that are raised at this event go directly to Alzheimer's care, support, research and awareness. We are extremely proud of this level of contribution as the average health focused charity or organization only allocates 56.2% of their funds directly to their cause. The remaining funds from this event go to further fundraising (15%) and administrative costs (6%).
Become an Alzheimer's Fighting Champion
The Alzheimer's disease is aggressive and relentless, and so are we. The J&D Love Train is going to give everything we've got at this walk, and we hope you will do the same. Those who are able to raise over $500 will join the Champions Club and those who truly knock it out of the park and raise over $1,000 will be titled Grand Champions. Both the Champions Club and the Grand Champions club come with awesome benefits, but the true benefit is the difference you will be making in the fight against the disease.
If you have any questions about the Alzheimer's Association Walk to End Alzheimer's, you can visit there Frequently Asked Questions page to learn more.
If you would like to discover more about our team at Always Best Care South Bay, and how we are fighting Alzheimer's disease one day at a time, give us a call at 310-984-6972 – we would love to hear from you and offer free consultations regarding our services!