Understanding Spousal Caregiver Burnout: When Caregiving Becomes Overwhelming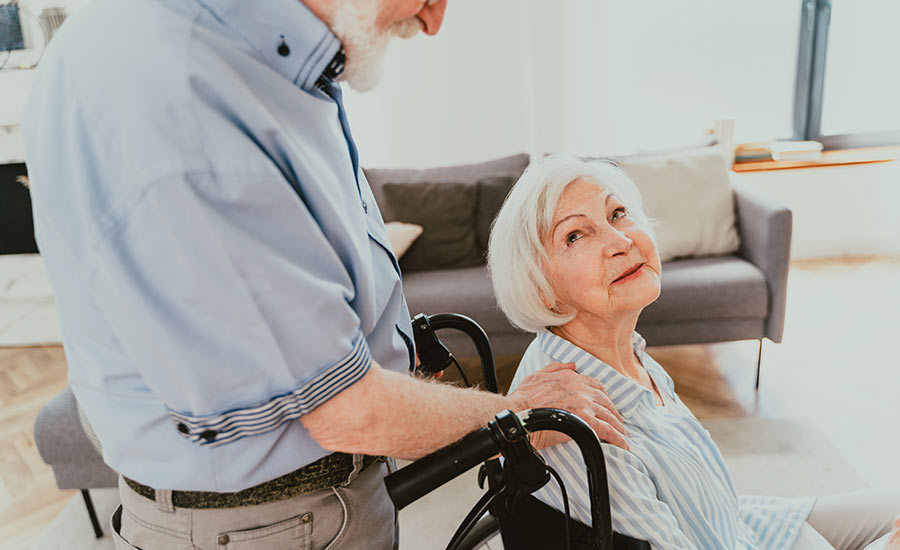 Have you ever thought, "I'm tired of taking care of my husband or wife?" If so, it may be hard to admit, due to the feelings of guilt that come with it.
However, if you're a full-time caregiver to your spouse, it's important to know that feeling overwhelmed and exhausted is not only common, but many caregivers struggle to ask for help when they need it — which can lead to spousal caregiver burnout.
We'll share the symptoms and causes of spousal caregiver burnout, and explain how our compassionate caregivers at Always Best Care Senior Services can help if you're feeling overwhelmed and run down with the physical and emotional responsibilities of being your spouse's sole caregiver.
What Is Spousal Caregiver Burnout?
Spousal caregiver burnout is a condition experienced by individuals who take care of their partners, characterized by physical exhaustion, emotional distress, and cognitive fatigue.
Taking care of a loved one, including a spouse, parent or friend, requires caregivers to spend approximately 13 days per month on activities like grocery shopping, meal preparation, cleaning, laundry, transportation, and prescription administration.
If your loved one is an elderly spouse and you live together, this number can be even higher.
Although you love your partner and want to take care of them, it can become a full-time job that often feels disheartening and overwhelming.
If your spouse is suffering from a progressive disease such as Alzheimer's or Parkinson's, the weight of caregiving can also become isolating.
What Causes Spousal Caregiver Burnout?
Being a caregiver for a spouse often requires around-the-clock attention and care, which can result in caregiver burnout.
Factors that often lead to this condition include:
Unreasonable demands from your partner
Unrealistic expectations about the care you give your loved one
Caregiver workload that is overwhelming
Providing spousal care for an extended period of time
Desire to take more physical and financial duties than realistically possible
Lack of control related to your time, resources, skills and finances
Unspoken and neglected feelings
Inability to separate the role of a caregiver from the role of a partner
Lack of support system, such as help inside and outside the family
Whether you are taking care of a spouse who suffered accident-related injuries, has been affected by serious disease or is experiencing a decline in their condition as a result of age, caregiving is a time-consuming commitment that can often lead to spousal caregiver burnout over time.
Symptoms Of Spousal Caregiver Burnout
Spousal caregiver burnout can manifest through both physical and emotional symptoms. While you may recognize that you feel a little overwhelmed, you might be surprised to find that you're experiencing more symptoms than you realized.
Physical symptoms include:
Exhaustion
Lack of energy
Headache
Chronic pain
Nausea
New or worsening health issues
Sleeping disorders
Panic attacks
Unhealthy eating habits, such as eating too little or too much
Alcohol or drug abuse
Smoking
Aggression towards your partner, family members, colleagues or strangers
Emotional symptoms include:
Sadness
Irritability
Anxiety
Feeling helpless
Feeling hopeless
Mood swings
Guilt
Resentment aimed at your partner
Loss of interest in things and activities you once loved
Feeling isolated
Desire to hurt the person for whom you are caring or yourself
If you are taking care of your partner and experiencing any of the above symptoms, you may be suffering from caregiver burnout.
While this realization may come with feelings of guilt, it's important not to blame yourself — caregiver burnout does not mean that you do not love your spouse, or that you are a bad partner yourself.
The best way to move forward is to seek help from a trusted senior caregiving organization, where professional caregivers can help you with your responsibilities.
While it may be hard to accept help, this is also an important step for your own health, so you can remain not only a loving spouse but also a fully present parent or friend for those who care about you.
If you are not a caregiver yourself, but you recognize a situation in which a family member or friend is taking care of a spouse and exhibiting some of the physical and emotional symptoms of burnout, talking to them might help.
Reach out, acknowledge how they're feeling and comfort them with the reassurance that it is natural to experience burnout from around-the-clock caregiving, and explain that it might be time to ask for help.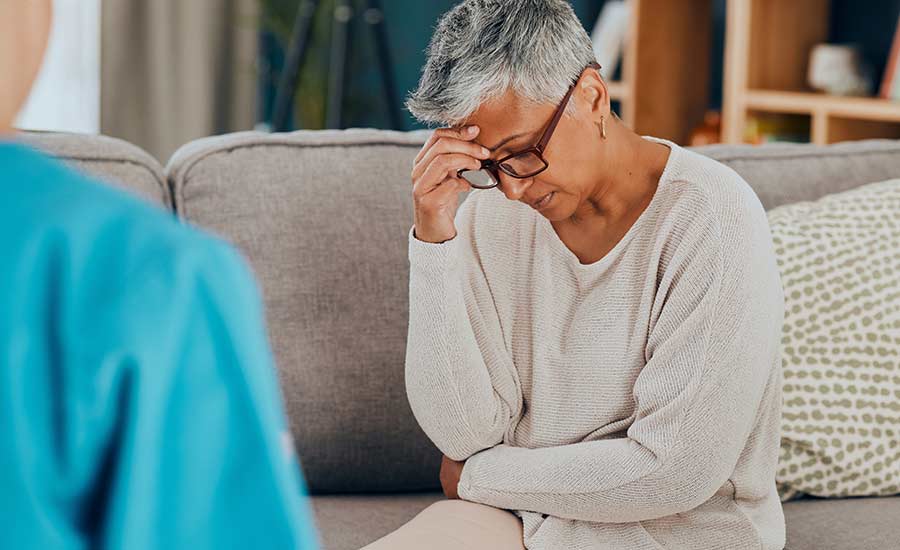 Relieving Spousal Caregiver Burnout With Always Best Care Senior Services
When caregiving becomes too much, our compassionate, trained team at Always Best Care Senior Services is here to help.
Professional care services can help relieve your physical, emotional and mental strain if you are caring for a spouse. At Always Best Care Senior Services, we provide the most trusted and reliable senior care to support you and your loved ones.
Always Best Care was founded in 1996 to help those like you to overcome the confusion and frustration that can result from looking for adequate senior care resources.
We completely understand the challenges you're facing, which is why we offer a personalized approach and services that are tailored to your needs.
Our services include:
We serve 225 locations throughout the United States and Canada, where you will receive trusted care, professional advice and compassionate support.
Schedule a no obligation care consultation to discuss your loved one's needs and the care options that we provide.
How To Prevent Future Spousal Caregiver Burnout
While caregiving can be come overwhelming at times, there are ways you can help prevent burnout in the future, including:
Make sure you're eating enough and getting enough sleep
Schedule some time for yourself on a daily basis, whether talking with friends, reading a book or taking a bath, for example
Read educational materials about your spouse's condition, including how it will develop over time and how you can help
Know your limits and set realistic goals about the care you can provide on your own
Set realistic expectations about your loved one's condition over time
Develop different coping strategies, such as looking for the humor in situations, focusing on the positive or meditating
Share how you feel with people who you trust
Seek counselling from a professional therapist, social worker or clergy member
Join a local support group, either online or physically — this can be especially useful if you are taking care of a spouse with cancer, aphasia or Alzheimer's disease
Acknowledge that your spouse may eventually need nursing care or assisted living, outside of the family home
Conduct self-evaluations for signs of burnout
Look into professional senior care services
Keep in mind that it's very common to feel overwhelmed by caregiving, and asking for help when you need it is not only beneficial to you, but also to your spouse.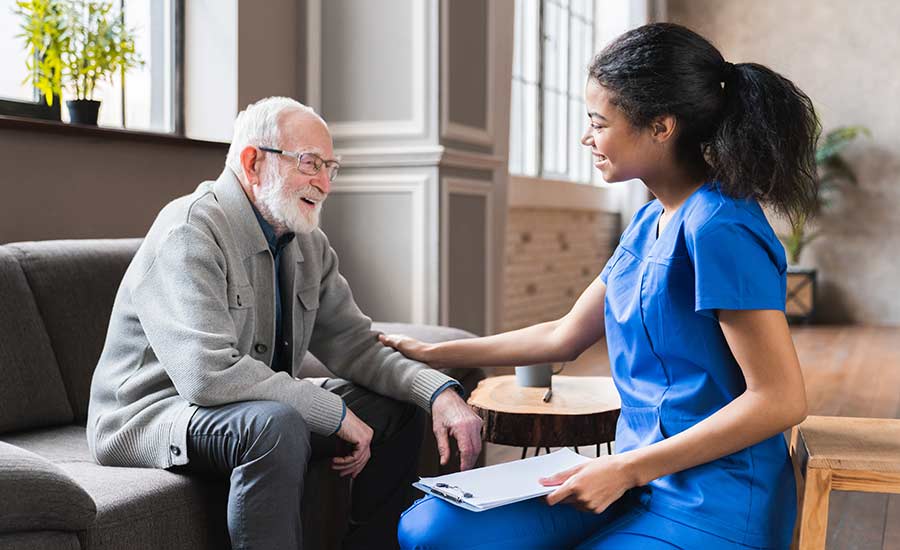 Wrapping Up On Spousal Caregiver Burnout
Spousal caregiver burnout is a common condition that occurs when a spouse is taking care of a partner who is suffering from injury, disease or age-related issues.
Spousal caregiver burnout can be caused by multiple factors, including unspoken or neglected feelings, the lack of a support system, and unrealistic expectations on your part regarding your physical capabilities for care.
Spousal caregiver burnout is characterized by:
Physical symptoms, including fatigue, chronic pain, headaches and sleep disorders
Emotional symptoms, including mood swings, irritability, sadness and depression
To minimize or prevent spousal caregiver burnout, it's important to ask for help when you need it.
At Always Best Care Senior Services, we provide professional in-home care and respite care, along with senior living referral services.
Reach out to our team to schedule a consultation and find out how we can help you offer the best care possible to your loved one.