Summer Foods to Boost Senior Health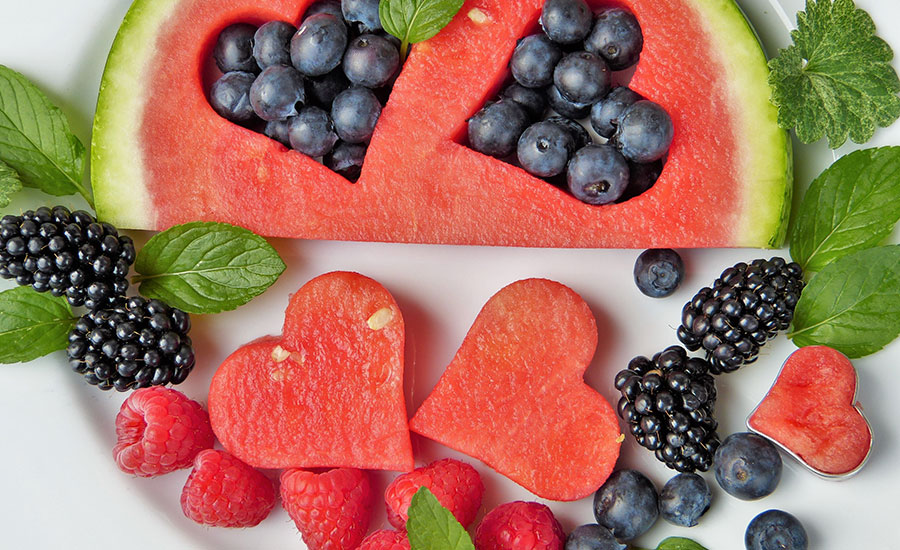 One of the joys of summer is farmers markets and gardens bursting with fresh fruits, vegetables, and herbs. Fresh produce is packed with vitamins, minerals, and nutrients that can support better health. Seniors should aim to eat around two servings of fruit and three servings of vegetables every day. Summer can be a great time to try new foods that have been recently picked.
Here are some fruits and vegetables that can pack a nutritional punch and taste good too:
Water-dense fruits. Watermelon, cantaloupe, honeydew, cucumber, oranges, and peaches are just a few fruits that are high in water content in addition to nutrients. This can make staying hydrated on hot summer days easier. While drinking plenty of water is important, aging adults can also increase their fluid intake by snacking on fresh fruit. A few slices of cucumber, orange, or peach can also add natural flavor to plain water.
Berries. Strawberries, blueberries, blackberries, raspberries, and cherries are relatively low in calories and high in fiber. They also contain antioxidants that can help reduce inflammation, improve circulation, and reduce free radicals. Berries may also support heart health and brain health.
Dark Green and Orange Vegetables. Kale, spinach, collard greens, carrots, orange bell peppers, and sweet potatoes are full of different carotenoids, vitamin C, and vitamin A. These veggies help combat cell damage, support better eye health, and may reduce risk of cataracts and age-related macular degeneration.
Fresh Herbs. Instead of using salt to bring out the flavor in foods, try sprinkling some on freshly chopped herbs. Oregano, basil, thyme, rosemary, and cilantro are just a few herbs that can be incorporated into different meals, side dishes, and beverages to enhance flavor while limiting excess sodium.
Incorporating Fresh Produce into Seniors' Diets
Eating fruits and vegetables doesn't have to be boring. Create a colorful, flavor-packed fruit salad that is fresh, crisp, and refreshing. Make fruit kabobs and healthy dips using low-fat yogurt.
Start with a bed of dark leafy greens and pile on a variety of different colored vegetables such as carrots, bell peppers, tomatoes, broccoli, cucumber, and radishes. Add some protein with grilled chicken or fish, chickpeas, hard boiled egg, edamame, or black beans for a more filling and nutrient-packed meal.
Blend up different combinations of fruits – and even vegetables – with Greek yogurt, low-fat milk, or water to create delicious smoothies. This can also help increase fluid intake and reduce dehydration. Plus, they are easy to sip and don't require chewing.
Gardening – whether in a bed or containers – can also be a wonderful way to keep seniors active and engaged. Tending to their garden can give them a greater sense of purpose, exercise different muscles, and promote better mental health. It is rewarding when they can see their efforts paying off and get to pick fresh produce they have grown. Even going to the farmers market and buying fruits and vegetables that are locally grown can be exciting and make trying new foods and recipes more fun.
Summer is a wonderful time for seniors to start making positive changes and creating healthier, more well-balanced meals. An in-home caregiver can help older adults plan and prepare different meals, escort them on trips to the farmers market, assist with gardening or other light exercise, and provide companionship during meal times and outings. Contact Always Best Care at (855) 470-2273 to schedule a care consultation and learn more about the benefits and advantages of non-medical senior care.