3 Reasons To Choose Assisted Living And 3 Reasons To Choose In-Home Care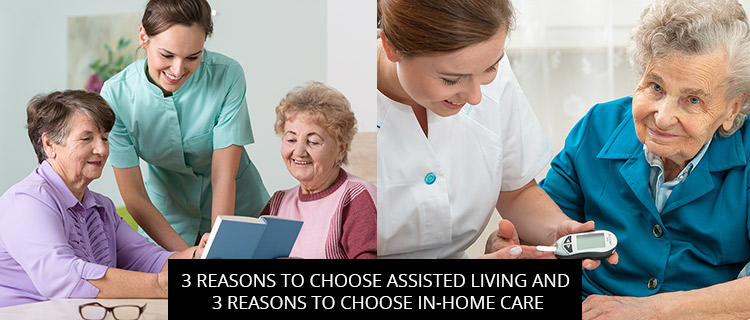 If you're trying to decide between assisted living and in-home care in Central Ohio, this article will point out three reasons to choose each.
Assisted Living
1. Assisted Living Is A Dynamic Form Of Care.
To be clear, an assisted living community is just one type of senior care facility. Other long-term care centers induce memory care homes (typically for those with dementia) and nursing homes (for those with high-level needs).
Then there are senior living communities like retirement homes, which offer seniors convenient and safe places to live where they can socialize with one another. Assisted living is for seniors who need care but who can still manage their own lives.
2. Assisted Living Can Be A Great Senior Housing Solution.
Families move around over time. If you live far from your elderly parent, you might be looking for a solution. Maybe you can't move your parent into your home, but you can move them close by because there are many senior living communities in Central Ohio. This means your loved one will receive the care they need and you can see them often.
3. Always Best Care Can Help.
At Always Best Care of North Columbus, we offer senior living referrals. Tell us what you need and what kind of community you want. Then we'll tell you what communities in Central Ohio meet your criteria. Best of all, our assisted living placements are free for our customers.
In-Home Care
1. In-Home Care Allows You To Age In Place
Always Best Care of North Columbus can send a caregiver to your private home in Central Ohio. They can visit weekly, daily, multiple times a day, or however often you need. Seniors can remain living in their homes longer with in-home care.
2. In-Home Care Covers Different Services.
At Always Best Care of North Columbus, we offer personal care, home helper service, and companion services in home. We help our clients with physical health issues, chores and errands, and mental health challenges.
3. In-Home Care Is Usually More Affordable.
In most cases, in-home care won't cost you as much as moving into a senior care community. With in-home care, you only pay for the services you receive, not rent and fees that support an entire facility.
Contact Always Best Care Of North Columbus For A Free Consultation.
At Always Best Care of North Columbus, we'll find the senior care community for you or your loved one in Central Ohio. And if these communities aren't for you, then we'll provide you with the in-home care services you need. To learn more, please contact us via our website, or by calling us at 855.470.2273.