How Brain Injury Can Affect Seniors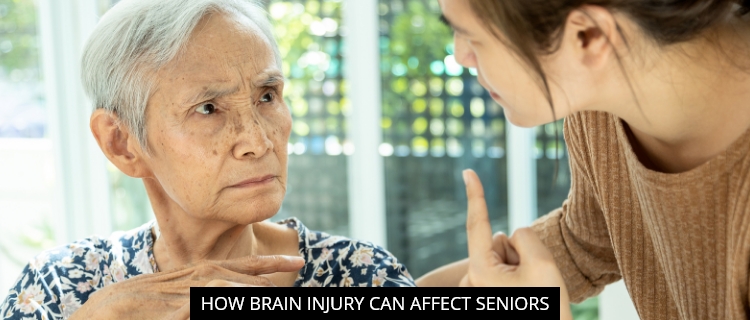 March is Brain Injury Awareness month and a great time to review the serious impact that traumatic and non-traumatic brain injuries can have on seniors' lives. According to the Brain Injury Association of America (BIAA), "There are more than 5.3 million individuals in the United States living with a permanent brain injury-related disability." While brain injuries can occur at any age, seniors tend to be at greater risk due to issues such as poor balance, slower reaction times, and other health conditions.
BIAA statistics show that when it comes to traumatic brain injuries,
47.9% are from falls.
17.1% are from being struck by or against something.
13.2% are from motor vehicle accidents.
8.3% are from assaults.
13.2% are from other or unknown causes.
Type Of Brain Injuries
There are two main types of brain injuries: traumatic and non-traumatic (also known as acquired brain injury).
Traumatic brain injuries occur when there is an external force on the head that impacts the brain. This could be from falling, getting hit in the head, or sudden jerking of the head (such as during a car accident).
Non-traumatic brain injuries are not caused by an impact to the head, but rather other conditions such as an infectious disease, a stroke, a seizure, meningitis, or lack of oxygen (for example, while choking)
This makes it critical to seek medical treatment to check for any changes to brain activity and identify potential injury as soon as possible. In some cases, rehab and therapy can help individuals regain or relearn skills that have been affected.
Understanding The Effects Of Brain Injuries
The impact on a person's life depends on several factors including the severity of the injury and where in the brain it occurred. Different parts of the brain control different functions. Some changes that seniors may notice after a head injury include:
Memory problems
Concentration issues
Behavioral changes
Vision problems
Balance or coordination issues
Trouble with walking or motor planning
Difficulty with speaking
These changes can make it more challenging for seniors to safely care for themselves and complete daily activities. They may have trouble coordinating their body to do what they want it or need it to do. They may have difficulty recalling what to do next or expressing themselves clearly.
Living With A Brain Injury
Rehabilitation can play an integral role in recovery. Once seniors return home, they may find that they benefit from additional help. Partnering with a non-medical in-home caregiver can provide the support they need when they need it.
A caregiver can assist with tasks that may be difficult or potentially dangerous. They can help seniors navigate their home more safely, prepare meals, do light housekeeping, assist with getting dressed or grooming, and provide reminders about appointments, medications, or at-home exercises.
Working with a caregiver can help seniors regain some of their independence after a brain injury, boost their confidence, and enable them to stay in their own home. Learn more about the benefits of senior care services and schedule your free consultation by contacting Always Best Care Senior Services of Albuquerque at 505.847.8083.