How Elderly Care Can Help Seniors Overcome Loneliness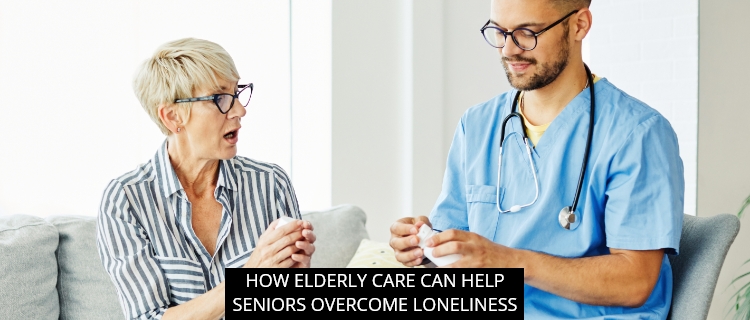 Most older adults look forward to retirement. They eagerly anticipate having more time to travel, pursue their passions and to spending quality time with their family. Though, with retirement comes the lack of interaction with co-workers on a daily basis. And family members may or may not be present, depending on their work and living situation. These are the main reasons why so many seniors feel lonely and isolated.
Though, there is a solution. In-home senior care can re-invigorate elderly people and help them overcome those feelings of loneliness. Here are a few ways in-home senior care helps older people fight loneliness.
1. Companionship
An in-home caregiver can become a companion, especially for widows and widowers, and for those who don't have family or family members who live close by.
In-home caregivers often help out with everyday activities around the house, including grocery shopping. They also engage in leisurely activities, like walking, cards, boardgames and crafts. An in-home caregiver is also there to lend a listening ear whenever needed.
2. Join A Senior Center
An in-home caregiver can become an elderly person's best companion, but older people need more friends and more activities to look forward to in order to be fulfilled. For those reasons, in-home caregivers will encourage older people to join their community's local senior center.
Most senior centers offer a variety of programs that are designed to meet the diverse needs and interests of older adults. By joining a senior center, older adults give themselves a chance to mingle with their peers, make new friends and engage in activities that are both fun and stimulating.
3. Stay Active
Senior centers offer fitness programs that are low-impact and fun. An in-home caregiver can encourage seniors to join a fitness program that they enjoy doing and that is compatible with their fitness level. Fitness classes are also a great way for seniors to meet and interact with one another.
Regular physical activity improves mobility, strength and flexibility, all of which promotes independent and pain-free living. These are the keys to a better-quality life. Seniors who are more physically independent are much more energetic and motivated to get out and mingle with their peers.
4. Encourage Relationships With Older Adults As Well As Young Adults
In-home caregivers can promote relationship-building with other older adults, either through a seniors center or by inviting other older adults to the home. This gives seniors a chance to reminisce about past life experiences and express their fears of loneliness and death amongst each other. Friendship-building through the sharing of stories and the expression of fears helps reduce anxiety and loneliness that older people often feel.
At the same time, it's important for seniors to befriend younger adults as well. Young adults are generally more energetic, so their presence adds vitality to a daily routine. Relationships with young adults also provides older adults with mentor moments. Mentor moments are those chances for seniors to share tips and advice to young adults based on their own life experiences. In doing so, seniors find a renewed purpose in life.
5. Take Up New Hobbies
In-home caregivers can encourage seniors to pursue a hobby they're passionate about, or take up a new hobby. This can be an art class, knitting, golf, photography, or a book club. When seniors are engaged in a hobby they enjoy doing, they are focused. That focus helps improve mental clarity, which keeps the mind sharp. And it's another way for older adults to mingle with each other.
Always Best Care Clinton Township provides companionship to seniors with our in-home care services. Our caregivers encourage seniors to pursue hobbies of interest, engage in regular physical activities and join a senior center where they have the ability to meet and mingle with their peers.
Contact Always Best Care Clinton Township at (586)203-2157 to schedule a free care consultation and learn more about how older adults can benefit from our in-home care services.