Stay Safe With Home Care Services: Stop Summer Scams In Macomb County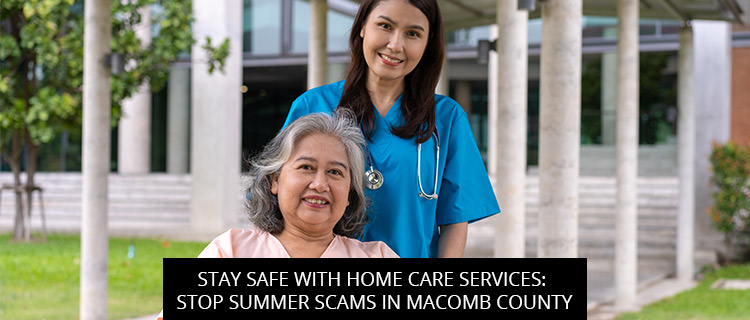 According to data from the Federal Bureau of Investigations, US seniors lose more than $3 billion each year to financial scams, many of which take place right in the home care environment.
Unfortunately, summer is a particularly risky season for seniors living at home, as the warm weather creates new opportunities for scammers to post phony vacation rentals, solicit landscaping work with no intention of following through, and spam landlines with fake offers for "free cruises" and holiday getaways.
But don't stress—there are plenty of excellent resources out there designed to increase Michigan seniors' scam-resistance, and our home care services make it easy to put their tips into practice.
Read on to review some scam-fighting advice from the Macomb County Prosecutor's office, all of which your home care team can help you implement, or call (586)-690-7500 to speak with a member of our team straight away.
Scam-fighting 101: Knowledge Is Power For Michigan Seniors
According to Macomb County Prosecutor Peter Lucido, the best thing you can do to "avoid being taken" is to "be aware of specific scams."
With that in mind, some of the most common scams being used this summer include:
The bank examiner scam, where the scammer claims to be a bank investigator and asks you to withdraw money to help catch an embezzler

The pigeon drop, where the scammer claims to have found a large sum of money and offers to share it with the victim once they send money to "prove their good faith"

The Pyramid/Ponzi scam, where the scammer offers an opportunity for seniors to receive money or goods for convincing other people to participate in a sales scheme

Phishing, where fraudsters attempt to obtain sensitive information about the victim by posing as a legitimate company or tricking the user into clicking on malicious links
While it may seem like a small thing, discussing these predatory tactics with your loved one could make all the difference in the fight against senior scams, helping your loved ones to spot and avoid con-artists before it's too late.
If you'd like to dive deeper into common summer scams, or you'd like us to review these threats with your loved ones as part of your regular care service, get in touch with our home care team.
Put Scam-Fighting Theory To Practice: How Your Home Care Team Can Help
Knowledge is power, but there is still more you can do to prevent common summer scams, and your home care team can help!
As part of the Stopping Crimes Against Macomb Seniors (SCAMS) program, Macomb County Prosecutor Peter Lucido recommends a number of preventative measures seniors can take to prevent victimization, all of which our home care team can help your loved ones put into practice. These include:
Never talk to strangers on the phone. The telephone is the scammer's main conduit to con-artistry. Fortunately, our home care team makes it easy to screen unwanted calls. At your request, we will answer the phone and only put your loved ones in contact with approved callers, such as family members, friends, and companies you trust.

Secure personal identification and important documents (especially in public). When out and about, Lucido recommends seniors use secure, close-fitting or hidden pouches instead of exposed purses, and keep their wallets in their front pockets, where pickpockets cannot easily reach them. It's also a good idea to leave sensitive items or documents at home when they aren't needed, and be sure to shred any mail or documents containing sensitive personal information.

Our home care team can take charge of all important documents, bringing only what items are necessary for your loved one's outing/appointment, keeping them secure, and making sure any paperwork with sensitive info is thoroughly shredded.

Do not answer the door when unsolicited salespeople come knocking. Many scams begin with "contractors" soliciting seniors at their front door. These phonies often insist the repair needs to be done right away to save money or avoid a major issue, and they offer to fix it at a price that's too good to be true. They may also claim to be inspectors working for the city or utility companies.

Many seniors fall for these door-to-door solicitations, but even if your loved ones don't, unwanted interactions like these can put a damper on the day, eating up time and, in some cases, even escalating into unpleasant verbal confrontations. The best strategy is to ignore these solicitors altogether, and our home care team makes it easy to turn away unwanted guests. Simply ask your home care provider to answer the door, and we'll take it from there.
Book A Free Home Care Service Consultation In Clinton Township, MI
To learn more about how our home care service can stop summer scams and make life better your loved ones, you can:
References
Lucido, P. (2023). SCAMS: Stopping Crimes Against Macomb Seniors. Macomb County Prosecutor's Office.