6 Different Scenarios Where You Might Benefit From Elderly Care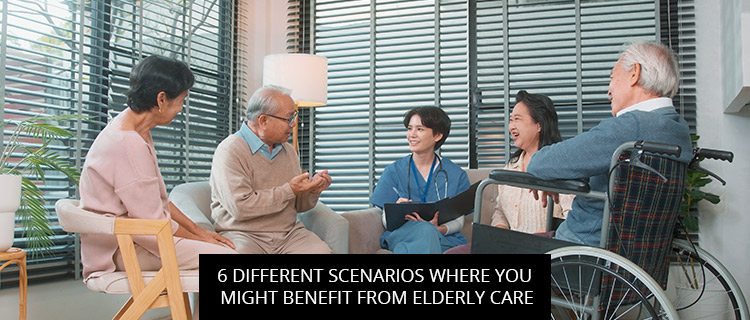 If you're wondering if elderly care is right for you or your loved one, here are six different scenarios that would indicate this type of care can really help.
1. A Senior With Limited Faculties Requires Elderly Care.
Many people imagine elderly care being provided to the infirm, very ill, or significantly limited. While this is only one group that can benefit from elderly care, they do make up a sizable percentage of care recipients. These people typically live in nursing homes or receive multiple visits from in-home caregivers every day.
2. Elderly Care Helps With The Activities Of Daily Living.
Everybody needs to complete the activities of daily living. These activities are everyday tasks of self-care, such as brushing one's teeth, moving around, basic nail care, remembering to take medication, and preparing and eating meals. Caregivers help seniors with all these activities and more.
3. Elderly Care Helps People With Mental Health And Neurological Challenges.
Seniors' physical challenges are often quite visible, but it's important to remember that seniors deal with mental issues as often, or at even higher rates, as younger people. Depression, anxiety, and other mental health issues are sadly common among seniors. A companion caregiver can help clients work through such problems, as can a therapist. There are also caregivers who specialize in helping people who have been diagnosed with Alzheimer's disease or other forms of dementia.
4. Elderly Care Can Assuage Loneliness.
Loneliness is a big problem for people in our society, and the elderly are no exception. Companion caregivers can help. They visit seniors in their Norfolk-area homes and spend time with them. Another option is to move into a senior living community where seniors live among and socialize with other seniors.
5. Elderly Care Might Be Worth It Just To Help With Chores And Errands.
Disliking chores and errands is hardly unique to seniors. However, certain chores are often painful and exhausting for the elderly. Home helper caregivers can manage household chores for seniors. Home helper caregivers can also run errands for their clients, such as grocery shopping and picking up medication. Seniors can also receive help with transportation.
6. Get Help Finding The Best Senior Care Community In The Norfolk Area.
Always Best Care of Norfolk will sit down with you and your family in your home and help you pick the best senior care community for you. We'll listen to your needs and recommend one or more nearby communities that suit you.
Contact Always Best Care Of Norfolk For A Free Consultation.
To learn more about elderly care in the Norfolk area of Virginia, please get in touch with us via our website or call 855.470.2273.