How Do Long-Term Care Centers Compare With Home Care In Norfolk, VA?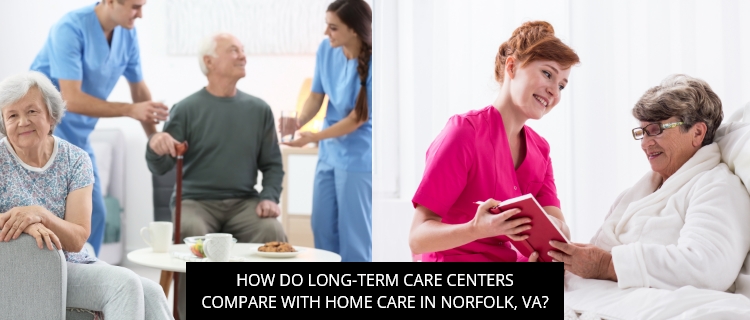 If you're debating between a long-term care center and home care in the Norfolk area of Virginia, this article offers some important comparison points.
Home Care Vs. Long-Term Care Centers
Home care and long-term care centers both offer senior care in the Norfolk area of Virginia. Home care is a service provided by caregivers who visit seniors and those living with disabilities in their own Norfolk homes. Caregivers help their clients with the activities of daily living (personal care), help them with their mental health and emotional wellbeing (companion care), and help them manage their homes and lives (home helper services). Always Best Care of Norfolk can provide all these home care services and more in Virginia.
Long-term care centers offer seniors care and somewhere to live. These facilities are convenient for many seniors and they're great for those who want to meet and socialize with other seniors. Nursing homes focus more on serving people with high-level needs. Memory care homes help those who have neurodegenerative diseases, such as Alzheimer's and dementia, as well as those who have suffered brain injuries.
Independent living communities, or retirement homes, don't offer care directly to their residents. Instead, they provide convenient living arrangements for seniors. And assisted living communities provide care to residents while also urging them to exercise as much autonomy as they can. Always Best Care of Norfolk offers assisted living placements to help families find the best communities for them in the Norfolk area of Virginia.
Which Type Of Care Is Most Practical?
Senior care is a personal matter. Every senior and every family has different needs and wants. What's practical for you may not be practical for others. If you or your elderly loved one don't want to move out of your/their Norfolk-area home, then home care is most practical.
If, however, you can't stay in your home for some reason, then a long-term care center is probably more practical. And while companion care can ease loneliness, those suffering from intense isolation might be best served by moving into a senior care community.
Which Option Is Most Affordable?
Home care is usually the more affordable option. With home care, you only pay for the services you receive, but in a long-term care center, you pay rent and fees to support the entire facility. However, if you rent your home or you have large mortgage payments to make, then it may be better financially to move into a care center.
Contact Always Best Care Of Norfolk For A Free Consultation.
To learn more about home care and long-term care centers, please get in touch with us via our website or call 855.470.2273.