How Senior Care Can Support Seniors with Diabetes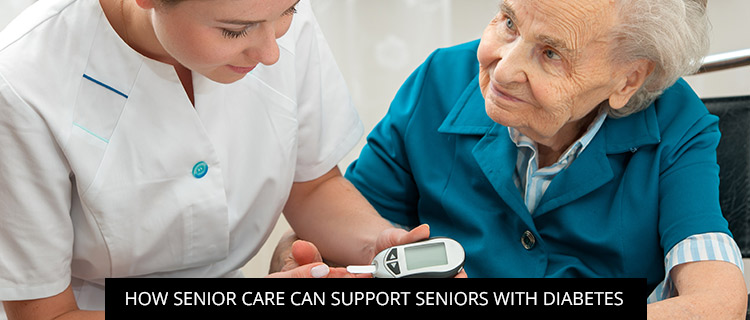 Diabetes can affect individuals of all ages, but seniors may face an increased risk of developing type 2 diabetes due to their lifestyle over the years and overall health. According to the Centers for Disease Control and Prevention (CDC), as of 2018, approximately 26.8% of adults aged 65 or older have diabetes. That equates to around 14.3 million people.
Diabetes is a condition that must be managed 24/7/365. It is critical that individuals track their blood glucose levels to prevent hyperglycemia or hypoglycemia as well as other conditions. When blood sugar levels are not well controlled, it can increase risk of damage to the nerves, kidneys, eyes, and other functions.
Senior care can provide the level of support necessary to meet aging adults' needs and promote better health. As seniors get older, it can be more difficult to stay on top of activities to manage their diabetes. Here are just a few ways in-home care can help:
An in-home caregiver can remind seniors not only to periodically check their blood sugar levels, but also to take medication or administer insulin as prescribed. They can make taking medications part of daily, nightly, or mealtime routines and help with maintaining logs if necessary.
A healthy diet is essential for diabetes management to help keep blood sugar levels under control. A caregiver can work with aging adults to plan nutritious meals that fit their dietary needs, shop for groceries, prepare meals, and manage portion sizes. They can also go through the refrigerator, freezer, or pantry to make sure foods are fresh and have not expired.
Engaging in regular exercise is also important for seniors with diabetes. An in-home caregiver can accompany them on walks, assist with basic exercise routines, provide encouragement, and help them find activities they enjoy to stay active. Plus, they can support safe mobility and reduce risk of falls.
Depression, isolation, and loneliness can impact seniors' motivation and compliance with maintaining their health. They may not be as focused on eating consistent meals to reduce spikes or dips in their blood sugar or getting out and about for exercise. Having someone there to socialize with, go on outings, and help with daily activities can boost their mood and encourage them to stick to a healthy routine.
A senior caregiver can also provide general supervision and oversight. They can alert family or call for emergency help if they notice changes in the senior's cognitive function, behavior, or health, which could indicate hyperglycemia, hypoglycemia, or other problems. It can also give aging adults and their loved ones peace of mind that someone is regularly checking in and looking out for their well-being.
If your aging parent is living with diabetes while aging in place, consider partnering with a senior care provider such as Always Best Care. Our caregivers provide the services and support your loved one needs when they need it. Contact Always Best Care at (855) 470-2273 to schedule a care consultation and learn more about how senior care can assist with diabetes management.