Reducing Stress Around the Holidays for Seniors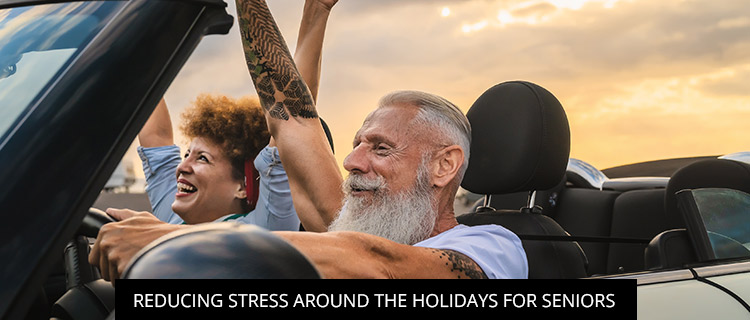 Holidays can be a joyous time where family and friends gather and celebrate, but these get togethers can also be overwhelming and stressful for seniors. There is a lot of activity, a lot of people, and a lot of stimulation. It can be difficult to manage and keep up. This holiday season, take steps to create a less stressful environment for your aging parents.
Keep gatherings small and simple. Don't go overboard inviting every relative and neighbor. Or, have a separate smaller party with close family so that your senior gets to see their loved ones in a more lowkey setting. Stick with a light schedule where you're not packing a lot of activities into a short period of time. Ask older adults who they would like to see and what they would like to do so they are involved in the planning process and know what to expect.
Don't overschedule. Plan for plenty of breaks and downtime, especially if you're traveling out of town, baking cookies, shopping for gifts, or attending a holiday event. Make sure that your loved one is able to participate in all of the activities and they are accessible if they have any type of physical or cognitive challenges. Are there ramps for their wheelchair or walker? Are there places to sit and rest? Is there somewhere quiet to go if things get too loud or noisy?
Maintain realistic expectations. Carrying out holiday traditions is exciting, but it's more important to enjoy the time you have with your loved ones. If your aging parent has dementia or arthritis, it may make it more difficult to do things as you normally would. Make adjustments accordingly and be open to doing things differently. Put guidelines in place for gift giving so that no one feels pressured to spend outside their budget. Consider doing a Secret Santa gift exchange instead.
Plan ahead for meals. Holiday celebrations are often filled with a variety of different foods and beverages. Make sure there are options that fit your loved one's dietary needs and recommendations so they can safely enjoy a delicious meal. Ask if there are certain dishes they want, or if you can prepare something together.
Make them feel included. Your aging parent likely realizes that they're slowing down and not able to do everything they did in their younger years. Work together on making or hanging decorations, ask for their input as far as what you do or eat, and simply spend time talking and reminiscing. Encourage them to share stories from their past and the traditions they grew up with. It's important to pass this information along from one generation to the next.
Provide assistance. Help them decorate their own home and offer to drive them where they need to go. If your schedule is busy or you don't live nearby, partner with an in-home caregiver who can assist them with these activities. A caregiver can also offer companionship, help with meal preparation, run errands, or accompany them on outings. Holidays can be challenging for seniors, but knowing that they have people to support them can be comforting.
Contact Always Best Care at (855) 470-2273 to learn more and schedule a free consultation. The gift of in-home care can benefit your loved one not only during the holidays, but throughout the entire year.