Why Always Best Care Of Norfolk Offers Respite Care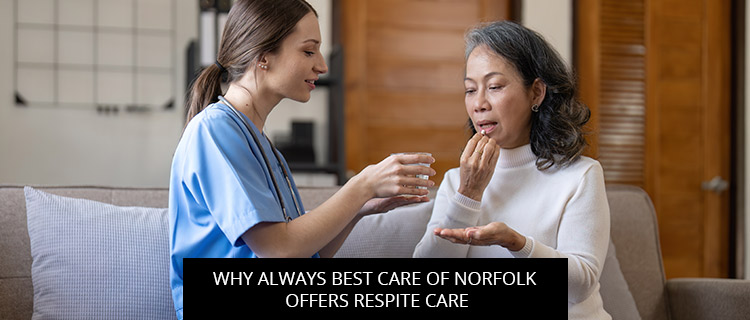 Learn about respite care, discover how it works, and find out how Always Best Care of Norfolk's respite services can help you and your family.
Senior Care In The Commonwealth Of Virginia
At Always Best Care of Norfolk, we offer professional care services. However, some people do these services for free. This might seem odd at first blush, but this isn't unique. For example, people can paint their house themselves if they want, but it's often easier and better to hire a professional house painter. At Always Best Care of Norfolk, we offer care to people who find it difficult to care for themselves. Who offers these services for free?
Family members and close friends of the elderly and disabled sometimes care for them. Caregiving for a loved one is something we at Always Best Care of Norfolk respect tremendously. We know how hard caregiving can be. We share the same goal that all these family caregivers have: helping elderly Virginians live healthier and better lives. There are many benefits to having your caregiver be a family member, but it's not always practical. That's why we at Always Best Care of Norfolk offer respite care.
What Is Respite Care?
A respite is a pause or a relief from something tough. Caregiving is something that often burns people out. If you care for your loved one, you deserve—and will eventually need—a break. But respite care isn't only for when family caregivers need a break or a holiday. There are other obligations that require the attention of family caregivers. These include work trips and conferences, exams, moving homes, and more. These situations might require your attention for extended periods of time.
There are also emergencies and health issues that can get in the way. For example, you can't care for your elderly parent if you, your spouse, or your child has a significant health issue. Whether you want to do something fun like a family trip or have a serious health matter of your own, we can step in and provide the care your loved one needs.
Respite Care From Always Best Care Of Norfolk
The caregivers of Always Best Care of Norfolk can be there for your loved one when you can't. We can write up a plan of care for your loved one in advance of a planned absence, or we can step in on short notice if necessary. We also offer other kinds of temporary care to help seniors recover from surgeries, injuries, and from Covid-19.
Contact Always Best Care Of Norfolk For A Free Consultation.
To learn more about respite care, please get in touch with us via our website or call 855.470.2273.