Why In-home Care Might Be More Practical Than You Think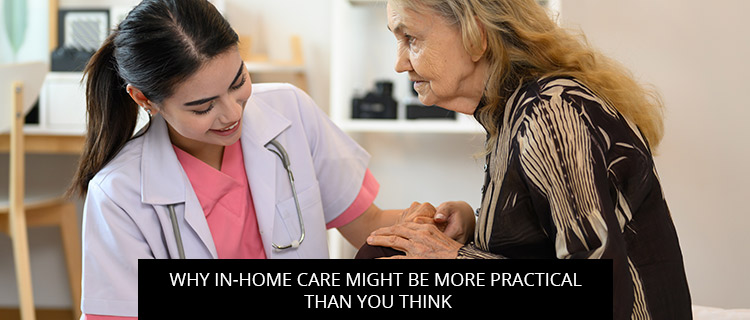 If you're thinking about care services for yourself or a loved one in Norfolk, VA, it's important to seriously consider how in-home care might work for you.
What Is In-Home Care And How Does It Work?
In-home care involves a professional caregiver visiting clients in their own Norfolk-area homes and providing care services. The clients are most often seniors, but younger people who have disabilities also receive in-home care. Caregivers help their clients take care of themselves, clean their homes, and help them with their mental health. Caregivers visit clients weekly, daily, multiple times a day, or however often their clients need.
Is Home Care Practical For Many People?
The alternative to in-home care is to move into a long-term care facility. These are places such as nursing homes, assisted living communities, and memory care/Alzheimer's and dementia care homes. Retirement homes, or independent living communities, are similar but aren't technically long-term care facilities because the staff at these communities typically don't provide care directly to the residents.
Assisted living communities are unique because they seek to balance care with independence. The staff at these communities offer personal care to residents while also urging them to manage their own lives as much as possible. Always Best Care of Norfolk offers free assisted living placement consultations in which we can assess your needs and suggest one or more communities around Norfolk that meet your criteria. We'll then work to get you placed into the community you like best.
Senior care communities are excellent places to live for many seniors. But they're not for everybody. Many seniors love their Norfolk homes and don't want to move out. Furthermore, while these communities can provide private units, they still foster a communal style of living that doesn't appeal to people who like their private space.
Last, senior living communities are often more expensive than in-home care. With in-home care, you only pay for the services you receive, not rent and fees to the facility. This is why in-home care is the more practical option for many Virginians.
What Services Can You Receive In Your Norfolk Home?
But is it possible to receive all the care services you want in-home? Can in-home care really offer the same range of care as a long-term care center? Yes, it can. With our in-home care programs, Always Best Care of Norfolk offers all the care services you could receive in a care community. We provide personal care, home helper services, and companion care.
Contact Always Best Care Of Norfolk For A Free Consultation.
To learn more about in-home care, please get in touch with us via our website or call 855.470.2273.