How To Find Dementia Home Care [Types of In-Home Care]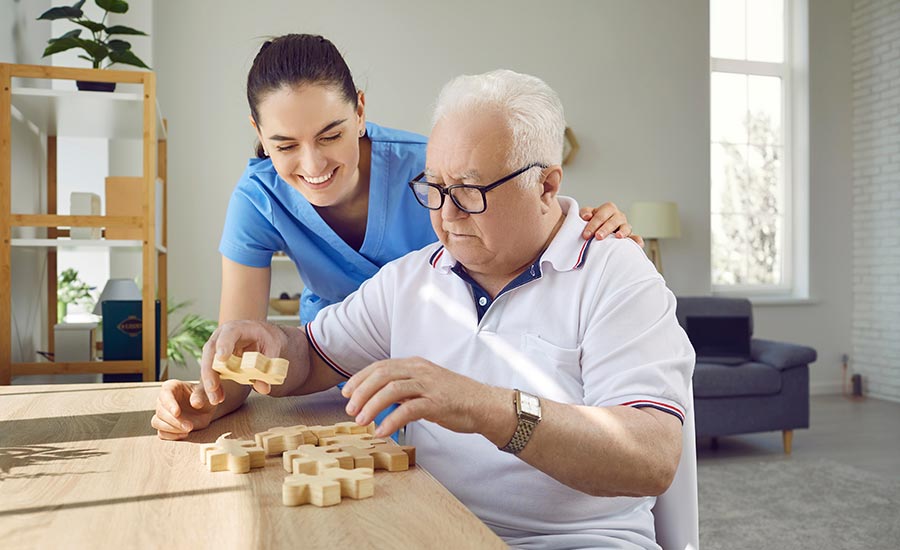 Dementia is a progressive condition, which can lead to intensified symptoms and an increase in caregiving duties over time. As a family caregiver, this is where dementia home care can be your lifeline.
We'll explain how dementia home care can help ease the stress on both you and your loved one, and introduce you to our in-home care services at Always Best Care Senior Services.
What Is Dementia Home Care?
Dementia home care is a type of care that provides specialized caregiver support and services for dementia patients within the comfort of their own home.
This type of care allows individuals to receive ongoing care at home from a professional caregiver. It also helps them maintain their independence while ensuring their safety, well-being, and quality of life.
Types of In-Home Care Services for Dementia
In-home care services for dementia can range from assistance with daily activities like bathing and meal preparation to more specialized medical care and behavioral support.
Types of dementia home care include:
1. Companionship Service
Companionship is a type of care that offers help with emotional support and social interaction.
This includes companionship activities with the care provider, such as reading the newspaper, playing games, or going on walks to help combat feelings of loneliness and isolation.
2. Personal Care Service
Personal care is a type of care that offers assistance with personal daily activities like bathing, dressing, grooming, and eating.
This care option allows dementia patients to maintain their comfort and overall well-being at home, while getting help with tasks that once were simple, but have now become more challenging due to the progression of dementia.
3. Homemaker Service
Homemaker care offers help with household tasks, such as cleaning, laundry, and meal preparation.
This care option allows dementia patients to maintain a comfortable, clean and organized living environment at home.
4. Skilled Home Health Service
Skilled home health care offers assistance with medical needs that require the expertise of licensed healthcare professionals.
This care option can include medication management, wound care, physical therapy, and other specialized treatments.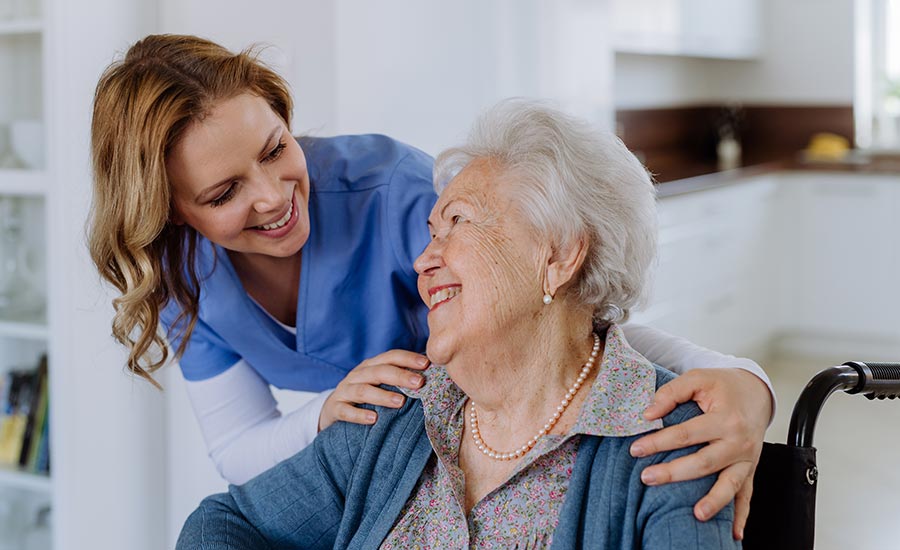 Benefits of In-Home Care for Dementia Patients
As a family caregiver, balancing your loved one's needs with your own personal responsibilities can be a lot to handle.
In a home care arrangement, professional caregivers can step in to provide expert, specialized care for your loved one, all in the familiarity of their own home.
The benefits of in-home care for your loved one include:
Reduced anxiety: Being cared for in a familiar environment can lessen feelings of disorientation and anxiety that dementia patients often experience in a new place. The comfort of home can provide your loved one with a recognizable setting that contributes to their emotional well-being.
Emotional well-being: Staying close to family members and friends can provide emotional sustenance and a sense of security that is invaluable for your loved one's emotional well-being.
Personal attention: In-home care services provide one-on-one care, allowing the caregiver to fully focus their attention on your loved one's needs.
The benefits that in-home care offers caregivers include:
Flexibility: In-home care offers flexibility in terms of scheduling and the types of services provided, allowing you to customize care according to your loved one's specific needs and daily routines.
Family involvement: In-home care allows other family members to be directly involved in caring for your loved one, offering emotional support and providing the opportunity for meaningful interactions that can help manage your loved one's cognitive and social functions.
Peace of mind: Knowing that your loved one is receiving specialized, compassionate care in the comfort of their own home can provide significant peace of mind, relieving stress and allowing for better overall family well-being.
Affordability: In-home dementia care is often more cost-effective compared to a senior living facility, as customized care plans allow for better financial planning and management.
How To Find Dementia Home Care for Your Loved One
Finding the right home care for your loved one with dementia is a deeply personal journey, but you don't have to navigate it alone.
Here's how you can explore options for the specialized, compassionate care your loved one deserves.
Consult with your loved one's healthcare provider: Speak with your loved one's neurologist, geriatric psychiatrist, or neuropsychologist for recommendations on the type and level of care they need.
Assess your loved one's needs: Create a list of your loved one's specific care needs. This might include personal care, skilled home health care, or companionship.
Research senior care services and caregivers: Consult with your local social services center to ask for recommendations when looking for agencies or caregivers experienced in dementia care.
Ask family, friends, and neighbors for recommendations: Receiving a direct opinion from those who have utilized in-home care services can be valuable, as their experiences can help you know what to expect.
Utilize the Alzheimer's Association's community resource finder: Find local home care services by using the Alzheimer's Association's online tool.
Use the Eldercare Locator: Find dementia care services by zip code, city, or state by calling the Eldercare Locator at 800-677-1116.
Use Medicare's online tool: Explore and compare Medicare-certified home health agencies in your area with Medicare's online tool, Home Health Compare.
Conduct interviews: Arrange face-to-face or online meetings with potential caregivers. Prepare a set of questions focusing on their expertise, experience, and approach to dementia care.
Check credentials: Make sure that the caregiver who will look after your loved one has the proper qualifications and experience in dementia care. Credentials should include passing the Certified Alzheimer Caregiver (CAC) exam and participating in dementia training or an apprenticeship program.
Consider a trial period: Evaluate the caregiver's compatibility with your loved one after a short-term trial period, before committing to a long-term arrangement. This will give you an opportunity to observe how the caregiver interacts with your loved one, assess the quality of care provided, and determine whether they meet your expectations and your loved one's needs. A trial period can also help your loved one get used to their new caregiver, making the transition smoother if you decide to continue with the service.
Dementia Home Care at Always Best Care Senior Services
Always Best Care Senior Services was established to make it easier for families to find the right care for their loved ones.
Our skilled and compassionate team is dedicated to offering dependable support for your loved one, including the highest quality of care in the comfort of their own home.
With services in more than 225 territories, we create custom care plans to fit your loved one's specific needs.
Our in-home care services include:
Personal care services: We provide your loved one with holistic care in the comfort and security of their own home, from helping them bathe, groom, and dress to companionship and tailored meal planning.
Specialized home care: We offer specialized home care services, such as transitional care, post-hospitalization care, and beyond, to help your loved one navigate through each stage of their health.
Skilled home health care: We offer personalized care plans for special needs or recovery, including long-term illness management and medication guidance. This service is available at select locations.
When Should Someone with Dementia Go into a Care Home?
While some patients with dementia may be able to remain at home with the proper care, it may not be safe for others with advanced stages of the disease to remain at home.
Deciding when someone with dementia should move into a care home is a highly personal decision. Consult with your loved one's geriatric psychiatrist or neurologist to gain insights on whether moving your loved one to a care home is the best step for their well-being.
The decision is typically based on several factors, including the stage of dementia, the patient's ability to perform daily tasks, and the available support from family caregivers.
While each situation is unique, signs a dementia patient should go into a care home can include:
Confusion
Wandering
Refusal of care
Difficulty performing daily tasks, such as preparing meals, getting dressed, going to the park
Difficulty managing personal hygiene, such as bathing, grooming, and toileting
Incontinence
Increased behavior changes, such as aggression or disinhibition
Increased health issues and physical decline
Moving a loved one into a care home is never an easy choice. At Always Best Care, we provide you with the flexibility to find a solution that best suits your loved one's unique needs and situation.
With our trained and compassionate care coordinators, you gain peace of mind knowing that your loved one is receiving high-quality care, whether in the familiar spaces of their own residence or in a care home near you.