When Is It Time To Consider Senior Care?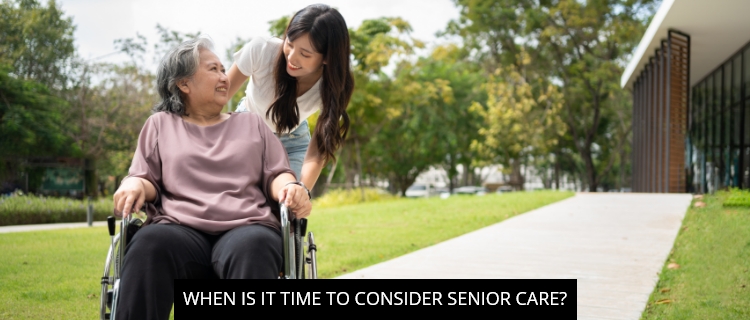 Whether your parent or parents are elderly, you're nearing your senior years, or you're well within them, it's worthwhile to consider your senior care options.
Who Needs Senior Care?
Seniors need senior care, but which seniors? It might be obvious when you think about it, but it's important to remember that not all seniors need care. There are countless 68-year-olds, 78-year-olds, 88-year-olds, and even 98-year-olds who are perfectly capable of taking care of their health and managing their lives. And it's also important to remember that many younger people have disabilities that mean they need or can benefit from care.
That being said, seniors require care more than any other demographic, which is why we talk so much of "senior care". Senior care saves the lives of seniors who otherwise simply cannot care for themselves. Senior care increases the quality of life of seniors and helps them be healthier and happier. And senior care makes life more convenient for seniors. Is it time for you to look into senior care?
When's The Right Time To Consider Senior Care?
If you're on this blog, then you're already considering senior care. And you should be, because it's never too early to get an understanding of your options. It's worth considering senior care if:
You (Or Your Elderly Loved One) Struggle With The Activities Of Daily Living
The activities of daily living are routine tasks that we all must do to take care of ourselves. These include getting out of bed in the morning, using the toilet, showering or bathing, eating and preparing food, dental or denture care, and remembering to take medication. If any of these tasks are difficult for a senior, the consequences could be severe. Senior care is necessary.
Chores And Errands Are Exceedingly Difficult
Taking care of a home can be difficult, especially if you're elderly. Vacuum cleaners can be heavy, mopping floors presents a fall risk, driving to get groceries can be dangerous, etc. Senior care can help. You can get a home caregiver to visit and do these chores and errands for you or move into a senior living community where the staff can attend to these chores.
You're Lonely
Senior care can help with mental and emotional health, too. Living in a senior living community can provide seniors with great social lives, removing them from isolation. A home caregiver can also visit to chat with seniors and monitor their wellbeing.
Contact Always Best Care Of Fox Chapel For A Free Consultation.
If you're in the Pittsburgh area of Pennsylvania, please contact us at Always Best Care of Fox Chapel to learn more about senior care. You can reach us via our website or by calling us at (412) 492-8500.